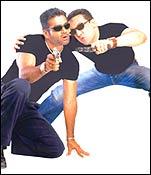 T
hough he tried more than once in his new film, Kundan Shah couldn't create the magic of his debut
Jaane Bhi Do Yaaron in Ek Se Badhkar Ek
.
Mr Shah's debut is just too good, one of my all-time favourites, a film I can see three times a day.
This one, I don't think I can see again!
Ek Se Badhkar Ek
is about Rahul (Suniel Shetty), a gardener's son who inherits a rich businessman's property. But there is a clause in the will that makes it mandatory for Rahul to become a gangster in order to inherit the Rs 400 crore property.
This clause is thanks to Rahul's lawyer Anand (Shekhar Suman), who is also a novelist. By mistake, Anand writes the plot of his novel in the will.
| | |
| --- | --- |
| | More on rediff.com! |
| | |
Now, he has to help Rahul become a thug. But all their efforts fail.
That's when they meet Kanchan (Raveena Tandon), a police inspector.
Kanchan's only dream is to nab a gangster and become famous. So the two parties decide to help each other out.
Meanwhile, Tracy (Isha Koppikar) is on a secret government mission, and is obsessed with Anand.
There are a couple of scenes which remind me of Jaane Bhi Do Yaaron.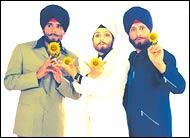 Like the one in the art gallery. Everyone is dressed up as a Sardar, muttering a secret code word 'Kukurmutta.' Jaane Bhi Do Yaaron had a similar scene when everyone was dressed up in burkhas, with a code word 'D'Mello.'
Another is the climax. While Jaane Bhi Do Yaaron's climax occurred at a dramatic performance of Mahabharata, Ek Se Badhkar Ek's climax takes place at a film shooting.
Sadly, there is a lot of overacting as the film attempts slapstick.
Initially, Suniel and Raveena's comedy track falls flat as they clearly lack comic timing. Raveena improves towards the end. One wonders if this is because the film -- earlier titled Kasam Se -- took about two years to get made. Maybe, Raveena learnt a few things on the way.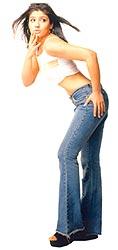 Shekhar Suman repeats his television act on the big screen.
Isha Koppikar doesn't have much to do though she has a decent role.
Deepak Shirke and Asrani are entertaining.
When will Kundan Shah give us an encore of Jaane Bhi Do Yaaron, perhaps the finest comedy made in India?
CREDITS
Cast: Suniel Shetty, Raveena Tandon, Shekhar Suman, Isha Koppikar, Asrani, Gulshan Grover, Shakti Kapoor, Deepak Shirke, Makhrand Deshpande.
Director: Kundan Shah.
Writer: Dilip Shukla.
Producer: Nomeeta Sandhu, Pammi Sandhu.
Music: Anand Raj Anand.