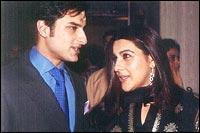 B
reakups are inevitably painful, especially when children are involved.
The Saif Ali Khan-Amrita Singh rift is very sad.
For one, the children, Sara and Ibrahim, know what is going on.
Secondly, Saif is alleged to have frozen the joint bank accounts.
So Amrita and her kids are left fending for themselves while Saif is away on a concert tour abroad with Shah Rukh Khan, Rani Mukerji, Preity Zinta, Arjun Rampal and Priyanka Chopra.
Sanjay Dutt apparently offered financial assistance to his former co-star, a kind hand of friendship Dingy -- as Amrita is known to her friends -- turned down.
According to close friends, Amrita wants to return to work.
However, acting offers are not pouring in as yet.
Says a friend of the couple, "I am sure there must been long-lasting provocation for his behaviour. We are no one to judge his behaviour. What Saif has done is very sad."
Apparently, Amrita's parents-in-law are with her in this hour of crisis.
Sharmila Tagore flew down to Mumbai to stay with her daughter-in-law and grandchildren after the marital crisis blew up. She is said to have expressed displeasure with her son's behaviour to close friends.
While the family hopes for a patch-up, close friends of the couple rule out the possibility.