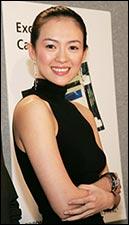 F
inally, the bestseller
Memoirs Of A Geisha
is ready to go before the cameras.
And finally, it has a star.

Zhang Ziyi, the delicate-looking actress with fierce martial art talents, is more than excited to play the title role in the film to be co-produced by Steven Spielberg and directed by Rob Marshall (Chicago).
It is a radical journey for her, Ziyi says. The film has been in development for over six years.

Undoubtedly the Asian actress with the highest profile, Ziyi has starred in films such as Crouching Tiger, Hidden Dragon and Hero that have grossed about $500 million worldwide.

Her pulse-quickening dance sequence (not to forget the aerial fights) is one of the highlights in the Toronto International Film Festival favourite House Of Flying Daggers.
| | |
| --- | --- |
| | rediff.com's Arthur J Pais is at the Toronto Festival |
| | |
The actress is in so much awe of her role in her first big Hollywood break that she does not want to speak about it.
Several prominent Chinese actresses came close to signing the deal but Spielberg chose Ziyi after seeing her in Hero.
Like House Of Flying Daggers, the Oscar-nominated Hero was also directed by Zhang Yimou, the man who discovered her over five years ago during an audition for a shampoo commercial.

Yimou revealed at a press conference in Toronto that he first met her in "a roomful of long-haired girls" when he was looking for a young actress and remembered her when he was preparing to film The Road Home, a year later. She had not appeared in a movie before but he cast her in the starring role.
"The shampoo commercial was never made," he said chuckling. "But she was in my film. It was impossible to forget that face."

Following the acclaim for her work in The Road Home, she got a plum role in Ang Lee's Crouching Tiger, Hidden Dragon.

One of the reasons she loves working for Yimou, the Beijing-born actress said in near perfect English, is because he trusts his artistes.

"He is very well organised with his script and knows exactly what he wants," she said, not using the service of an interpreter. "Once he trusts you, he gives you room to do what you want to."

Ziyi, considered by many to be a martial artist extraordinaire, said martial arts came easily to her. She had also been trained for six years in traditional Chinese dance.

"My teachers used to make me get up five in the morning and practice dance," she said. "It was not hard to change the dance movements to martial arts."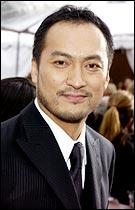 Working with directors like Ang Lee and Zhang Yimou is also something that comes easily to her. "I just trust them," she chuckles. "I just give to them."

"I am learning to improve my English for the new film," Ziyi, who has also appeared in Rush Hour 2, added.

The book Memoirs Of A Geisha tells the story of a young girl's rise from poverty in a Japanese fishing village to life in a rich society. It is the story of fortitude, survival and redemption. The book, published seven years ago, became an international bestseller.

Ken Watanabe, Oscar nominee for The Last Samurai and one of the top stars in Japan will play a high-powered executive with whom Sayuri falls in love. The movie would cost about $100 million, more than three times the budget of Hero.