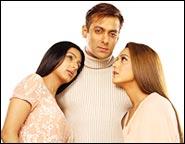 T
his is my first film review, and I was very nervous about writing it.
I landed up at the theatre an hour before the show was to start because I knew Salman Khan has a huge fan following. I was afraid I would have to buy a ticket in black. But to my disbelief, when I reached the theatre, I saw only five people near the booking window. By the time the show started, the number had increased to less than 50.
Dil Ne Jise Apna Kahaa
is not too bad. It's an okay film as it is Atull Agnihoutri's (do notice the spelling change due to numerology) directorial debut. So you can give him grace marks and pass him.
| | |
| --- | --- |
| | DNJAK on rediff.com! |
| | |
I say this because I didn't expect even this quality from him because I never did like his acting.
The film is inspired from Hollywood's Return To Me, and adapted to the Indian audience's taste buds.
There is too much of rona-dhona, lovey-dovey, mushy-mushy dialogues between husband and wife.
It starts slowly, unlike the original English film, to establish the relationship between husband Rishabh (Salman Khan) and wife Pari (Preity Zinta) -- how much they love each other and how they cannot stay without each other.
Rishabh works in an ad agency and Pari is a doctor.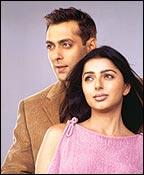 Then, there is Dhani (Bhoomika Chawla), a heart patient. There is only one cure for her -- a heart transplant. So somebody has to die, and who better than Pari?
Pari meets with a road accident and her last wish is to donate her heart to Dhani. And because Dhani has Pari's heart, she thinks like Pari. And she loves all those whom Pari loved (I wondered if the director meant heart or brain transplant!).
Dhani falls for Rishabh, but he's not interested because he can't forget Pari...
Blah blah blah...
Why did I even write so much? It's the same tried and tested formula. One loses interest in the second half because you know they will marry each other in the end. It is difficult to watch a film when you know what will happen in the end and worse, when it never comes.
I thought Salman learnt acting after Tere Naam but he performs badly in all the crying scenes. I have seen him making that face in so many films that I think that's his real crying style! His comedy is bakwaas; he falls flat many times.
Preity performs well, but does not look sick during her accident. There are no scratches. There's only internal bleeding it seems, so the face remains presentable.
Bhoomika has acted well, and is good in almost all her scenes.
Asif Shaikh as RT has got a big enough role after a long time and does not disappoint. Rati Agnihotri is okay but any chota mota character artiste could have done her part.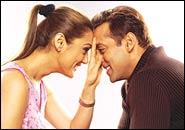 Riya Sen needs to improve on her dialogue delivery. Delnaaz Paul (remember Preity's friend in Kal Ho Naa Ho?) has overacted. As usual Helen and Renuka Shahane are wasted. They appear at the start and end of the movie. Viju Khote has two lines.
The music by A R Rahman and Himesh Reshamaiya is okay, especially the title song and Bindya chamakne lagi.
If the film works, it will be only because of Salman's fan following.
Atull Agnihoutri has a long way to go.

CREDITS
Cast: Salman Khan, Preity Zinta, Bhoomika Chawla, Rati Agnihotri, Helen, Renuka Sahane, Asif Shaikh
Writer, Director: Atull Agnihoutri
Producer: Mukesh Talreja, Sunil Manchanda
Music: A R Rahman, Himesh Reshammiya
Lyrics: Mehboob, Sameer