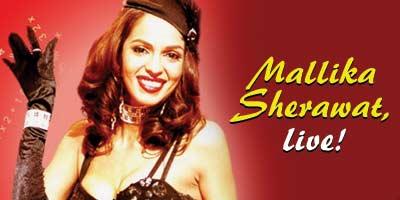 On October 19, Mallika Sherawat discussed her latest film, Kis Kiski Kismet and much more, on Rediff Chat!
For those who missed out on her lively exchanges with chatters, here's what she said!

Mallika Sherawat: Hi, this is Mallika... a big hello to all my fans and a HUGE Kiss.

Sharat: You are a sex bomb.
Mallika Sherawat
: Hi! Sharat. Thanks for the compliment. It is surely my good luck that you consider me a sex bomb. Pravin: Hello! Mallika tell us about your role in
Kis Kiski Kismet

Mallika Sherawat
: In
KKK
, I play a dumb brainless bimbo who herself does not know how sexy she is. Both father and son are after me in this movie.
Ind: Hi Mallika, What are your future plans?
Mallika Sherawat
: Hi! Ind. The nearest plan is
Kis Kiski Kismet
. It is releasing on October 22. The cinema halls will need more air conditioners. And after that I have
Myth
with Jackie Chan.
email2skb: Can you tell me Mallika, how u manage to shoot hot scenes?
Mallika Sherawat
: I don't give it much importance and I do it to the best of my ability like I would do any other scene in the movie. Be it comedy, drama, action or anything…(IF I LIKE THE CO-STAR... I try to enjoy it). Resonance: Mallika, do u remember ur first kiss?
Mallika Sherawat
: Resonance. It was a very painful experience because the boy had eaten lots of onions... :-(
Urvasi: Hi! Mallika, I am Urvasi, a great fan of yours. I think you are the first lady who is doing International movie outside India and I think it will open the doors to other actresses. As far as Aishwarya Rai is concerned she has done film that is combo of Hindi & English. I think you are the only actress who has done a pure English film.
Mallika Sherawat
: Thanks Urvasi. It's always great to get an opportunity in English film and to be the first one to get the opportunity. I hope my opportunity opens doors for other people as well... Cheers!!
Sk: Mallika when will be you my Kismet?
Mallika Sherawat
: Sk. Of course I can be your kismet. Come party with me on October 22 when
Kis Kiski Kismet
releases.
Samson: Are you married or a divorcee? Can you tell me?
Mallika Sherawat
: Samson, Mallika Sherawat is single. It is out of compulsion NOT out of choice. I haven't met a man who has more balls than I do.
Vikky: Hey Mallika any plans to get married?
Mallika Sherawat
: Not at all Vikky. If I get married, how will I flirt with you boys? I love flirting. I can't do that if I get married.
br: Hi Mallika, I am a great fan of yours. You are the first REAL HOT BOMBSHELL Indian Film Industry has ever produced. My question to you is "Do u enjoy acting out those intimate scenes as much as the guy who is acting with u?
Mallika Sherawat
: For a long time now India has been starved for a sex symbol and it is not easy to be one. If you look at Hollywood, J Lo and Beyonce are the current sex symbols of the world. And why can't a woman enjoy the scene as much as the guy does? What's wrong with that?
moviestar: What is your dream guy like?
Mallika Sherawat
: My dream guy should be very intelligent and sensitive. He should have a good sense of humour and of course, be a very good kisser. Sharad: First of all let me congratulate for wrecking havoc in Bollywood :) I like your looks and body. Now my question is: Do you think this success will last for long? There are so many heroines in the wing who will get undress at a drop of hat. What do you think makes you different from them?
Mallika Sherawat
: Hi Sharad. No movie can be a hit based only on undressing. If that was true BOOM would have been a super hit. According to me the movie has to have content in it. Just wait and watch for October 22. More havoc is on its way. ChimpuSinghShriwastav: Hello Mallika,
meri mataji tumhe pranaam bol rahi hai. Plz unko jawaab do
.
Mallika Sherawat
:
Aapki mataji ko mera Sadar Pranam
. And please ask her to bless me.
Tryme: How was it working with Jackie Chan? Have you done any action sequences with him?
Mallika Sherawat
: It was a big challenge. Jackie made me do all the action and stunts on my own. And I can tell you that it was not easy flying around in cable and wires. He is a very warm and a giving costar.
Santtarius: By acting in a non-Indian movie you have really done a splendid work in the name of 100 million Indians. People like you are really a boost for our country. So can u tell me when this movie is expected to release? We all are eagerly waiting to see u in action?
Mallika Sherawat
: Thanks a lot.
Myth
releases next summer. I am emotionally blackmailing Jackie Chan to have a premiere in India too.
Sk: What kind of roles are you interested in doing?
Mallika Sherawat
: I'm interested in doing good roles. I will never play a sidekick to any hero. And in
Kis Kiski Kismet,
I play this dumb brainless bimbo who runs away from home on her wedding day.
xyz: Was shooting in Hampi for Jackie Chan's film
Myth
cancelled because you all didn't take required permission to shoot the film?
Mallika Sherawat
: Shooting was disturbed in Hampi because of the 20,000 odd crowd who came to see us. They were shouting Jackie-Mallika!
Jeevan: Do you have any hot scenes in Jackie's film?
Mallika Sherawat
: For that, you will have to see the movie. But I must say Jackie Chan finds me very hot :-)
Shree: What do you think of Dharamji?
Mallika Sherawat
: Dharamji is coolest and the sexiest Member of Parliament. We got along very well during the shoot of
Kis Kiski Kismet
. We two Jats have created riot in the movie.
Anil: Is
Kis Kiski Kismet
an original story?
Mallika Sherawat
: Yes. It's an original comedy. It's a movie about scandals, gossip, and lots of easy money. It was very tough to be funny, sexy and dumb at the same time.
Mallika Sherawat
: Goodbye to all my fans. Come Celebrate Dusherra with me on October 22 with
Kis Kiski Kismet
. Let us set the entire country on fire...*KISS*...Cheers!!!