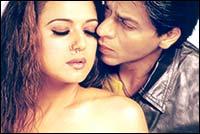 A
t the inauguration of a preview theatre in suburban Mumbai, Shah Rukh Khan spoke about his new film,
Veer-Zaara
.
"Most of my roles have been romantic roles. I simply sleepwalk through such portrayals now," Khan jokes, then adds quickly, "Veer-Zaara is not just a romantic role. It also has a lot of pain and emotion."
"Though it shows a Pakistani girl (Preity Zinta), the film does not indulge in country bashing. I have never done films which indulged in country bashing. It's good for peace and mankind that there is no tension between India and Pakistan."
Adds director Yash Chopra, "I did not make this film by keeping the Indo-Pak angle in mind. I made whatever came to mind. Love stories are not made with planning. The music will play an important role in this film. Watch out for Madan Mohan's tunes. They are slowly but surely growing on everyone. Music never becomes old as long as it is good."
| | |
| --- | --- |
| | More on rediff.com! |
| | |
The movie tells the love story of an Indian Veer Pratap Singh (Khan) and a Pakistani Zaara Hayaat Khan (Zinta). When they get separated due to circumstances, Saamiya Siddiqui (Rani Mukerji), a Pakistani lawyer, tries to reunite the couple.
Veer-Zaara is scheduled for a November 12 release.
Meanwhile, Khan has ventured where Hollywood celebrities like Tom Hanks, Sylvester Stallone, Antonio Banderas and Gene Hackman have ventured before. He has lent his voice to the Hindi version of Walt Disney Pictures and Pixar's latest animation film, The Incredibles. The film will release on November 5 in the US.
This will be the first time SRK's voice will be used for an animated character. This will be son Aryan's first foray into films, as he dubs in the film too.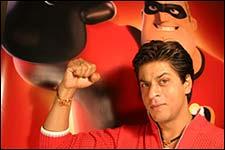 Khan has dubbed for the lead character of the film Mr Incredible (Mr Lajawab, in the Hindi version), who is a retired superhero making a comeback.
"I have been spending the last couple of days at the studio completing the project. I have a couple more days of dubbing left," Khan said.
The Hindi version will release in India in December.
SRK, it is heard, was convinced by distributors Sony Pictures India to take on the part during his recent US tour.
Says he, "I took up the project mainly because my kids see a lot of animation. Plus, the animation industry is growing by leaps and bounds. As an artiste, dubbing is a very important phase of acting. I didn't think even twice before saying yes."
The film is a story of a family of reluctant superheroes trying to live in disguise in a quiet suburban neighbourhood, who have to blow their cover to save the world.