Gulshan Rai, one of the Hindi film industry's leading producers, passed away in Mumbai on Monday, October 11, after a prolonged illness. He was 80.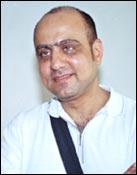 Vickey Lalwani asked his son, director Rajiv Rai, for his impressions of his father.
My dad started his career in the film industry in 1951, as a distributor. When I was born, the business was four years old.
I grew up listening, talking and seeing films. I don't remember even one incident where he had any major friction in his business. When I see today's times of jealousy and pride, I wonder how he managed.
He had a lot of goodwill in the film industry. He never refused help to anybody in financial distress. He had malice for none. If a film didn't do well, he never made fun of the failed venture. He always tried to see the sweat, toil and labour which must have gone in putting it across. He was never a serious man. He had a great sense of humour; I often heard him cracking jokes with producers and actors.
In 1969, he moved on to production. I was in boarding school when Johnny Mera Naam, his first film, became a big hit. Coming back to Mumbai, I saw a big change in the working scenario, but he was still the same person.
I think Johnny Mera Naam and Deewar were his best films -- two very different films but almost equally successful.
I had a very smooth childhood. It is said that fathers are closer to their daughters, so I thought maybe that's why my sister never went to boarding school (laughs).
But when I came back, I realised he was showering more love on me. Distance had brought us closer than I imagined. He had become very possessive about me.
He never directly taught me anything. But yes he was involved passionately in my first project Yudh. Then my mother told him he needed to let me be on my own.
He had said, "I will not see your next film until it is censored."
Believe it or not, he saw Tridev only after it had been censored! I didn't get to hear a single word of advice from him when I was working on Tridev. He understood the next generation's viewpoint. That made life easy at home. 
I always follow his principle. Never make fun of anybody else's work. If you ask me about any film in the world, I can tell you the good things in it. There is so much negativity these days. If we learn to respect each other's work like they do in the West, I am sure we'll make better films.
Besides, he never went to the film sets. He was never scared what the location would look like, what the camera angle would be. He had faith in those who were handling his project and give them full creative freedom.
The last few years have been bad. The attempt on my life shook him up very badly. He had a paralytic attack, which was hereditary, but life was never the same again. The unfortunate incident added fuel to the fire. His health started deteriorating.  I kept in regular touch with him from wherever I was, but of course, he was terribly worried.
| | |
| --- | --- |
| | More on rediff.com! |
| | |
My mother passed away; she used to say that she wanted to leave the world before him, and did. She was very healthy and religious and it happened all of a sudden. I was on a flight when she died. I knew she wanted it that way, and I accepted it. Then, my wife's parents passed away due to illness.
Pyaar Ishq Mohabbat didn't do well; Asambhav flopped.
He passed away peacefully. My dad was 80, and frankly, I don't expect anybody to live longer than that. But he suffered in the last five years. So when the end came, it was a kind of relief. The suffering had ended. I had two nurses attending to him in shifts. Of course, I am sad, but that's for myself.
The end came at 7 am.
I am glad I was in India. Actually, I was supposed to go to London on October 11 to meet my son; his holidays were going on. I don't know why, but I had cancelled my ticket. 
I don't think many people in our film industry, or any other career, have been bestowed with as much success as he was.