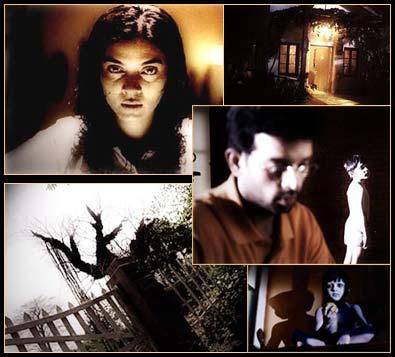 Saurabh Usha Narang's directorial debut Vaastu Shastra hits theatres on October 22.
The film, backed by Ram Gopal Verma's K Sera Sera Productions, is vaunted to be the spine-chiller of the season.
Narang is not just another Verma protégé. Actually, hailing from television, the film happens to be his first collaboration with the maverick filmmaker.
Ramu has been lavish with his praise, calling Vaastu Shastra far scarier than his own hair-raiser, Bhoot!
The film stars Sushmita Sen and Chakravarthy, who play a married couple with their young son, Rohan (played by four-year-old Ahsaas Channa).
Chakravarthy is a writer, and looking for seclusion to pen his latest effort, hence the move to the outskirts of Pune. Sushmita is a general physician, and their house, Shanti Kutir, seems idyllic -- a dream home.
As they go about their new life, young Rohan explores his new surroundings with typically curious excitement, but suddenly he comes to them laden with strange stories no one believes. Suddenly the family is shattered by two deaths. The police think it's the work of a psychopath, but Rohan's warnings now seem frighteningly real. But is it too late?
All set to make you shiver, Vaastu Shastra arrives on October 22, just days from Halloween.