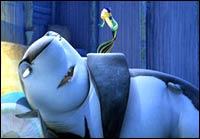 Though the sports-themed Friday Night Lights failed to dislodge Shark Tale from the top, the critically acclaimed drama grabbed a healthy $20.6 million, for the second spot on the US box-office charts.
While the two other widely released films Taxi and Raise Your Voice opened to mediocre business, Walter Salles' coming-of-age road drama The Motorcycle Diaries rode into the top ten list.
The Spanish language film, which is quite a sizeable hit in Europe, expanded from 67 to 167 theatres, grossing an impressive $1.4 million in ninth position.
Still delighting millions of young movie fans, Shark Tale grabbed about $31.7 million, taking its 10-day gross to $87.7 million.
Many films that open big come down by about 50 percent in the second week, but Shark Tale, which was run down by many critics, swam against the tide.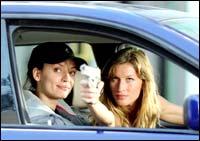 The $70 million movie could recoup its cost in another two weeks.
The strong opening and favourable reviews for Friday Night Lights, which was made on a modest budget (about $30 million), promises to make it a durable hit for several weeks.
Following Friday Night Lights was the inspirational drama Ladder 49 that has been shaping into a medium range hit, boosting the careers of Joaquin Phoenix and veteran John Travolta.
In fourth place was Taxi, which despite taking many wrong turns, still managed to make $12 million. But for Queen Latifah, who gets a billing above the title for the first time in her career, the film was anything but a career-cementing work.
The crime adventure involving a cop who badly needs the service of an over-speeding cab driver to nab bank robbers may not boost the career of comedian Jimmy Fallon either. But the film, given its $20 million cost, could earn a small profit when it hits the DVD stores.
Still continuing to scare audiences and move them emotionally The Forgotten in fifth position, has grossed a healthy $48.6 million in three weeks.
The Hillary Duff drama Raise Your Voice started its run, grossing a pale $4.6 million. The success of her recent film A Cinderella Story did not help launch her new film with big numbers. Raise Your Voice tells the story of a small town young woman who discovers a lot of things about herself and the world around her following her big move to Los Angeles after her brother's death.
The movie set against the background of a music academy has several songs by Duff but they are not catching fire.  Roasted by the critics who found it to be too bland, it opened at sixth position on the box office charts.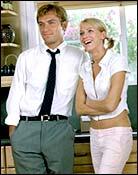 The Che Guevara-inspired The Motorcycle Diaries was not the only independently-made film to have a good run over the weekend.
A comedy about eccentrics and those fighting to make a sense of their painful circumstances, I Heart Huckabees too is doing excellent businesses in arthouse theatres. It has not yet leapt into the top 10 list but the film that grossed $940,000 in about 44 theatres in its second week was in 13th position. It will face the real test of its popularity when it expands to more than 500 theatres in a few weeks.
Nearing its first engagement in New York, the independently-made Guiana 1838, starring Kumar Gaurav, has grossed impressive $125,590 from a single theatre.
| | | | | |
| --- | --- | --- | --- | --- |
| Rank | Film | Weekend gross | Total gross | Number of weeks |
| 1 | Sharks Tale | $31.7 million (down 34% from the previous week) | $87.7 m | 2 weeks |
| 2 | Friday Night Lights | $20.5 million | $20.5 m | 3 days |
| 3 | Ladder 49 | $13 million (down 40%) | $41 million | 2 weeks |
| 4 | Taxi | $12 million | $12.6 million | 5 days |
| 5 | The Forgotten | $7.5 million (down 37%) | $48.6 million | 3 weeks |
| 6 | Raise Your Voice | $4.6 million | $4.6 m | 3 days |
| 7 | Sky Captain | $2.2 million (down 31%) | $33.8 m | 4 weeks |
| 8 | Shaun of the Dead | $1.6 million (down 3.5%) | $9.3 m | 3 weeks |
| 9 | The Motorcycle Diaries | $1.4 million (up 30%) | $3 m | 3 weeks |
| 10 | Woman, Thou Art Loosed | $1.3 million (down 48%) | $4 m | 2 weeks |