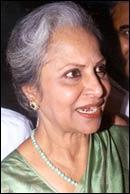 Waheeda Rehman, dazzling star of the silver screen, considered Guru Dutt her mentor. In this interview with rediff.com, she recounts working with the legendary director as his leading lady, in some of his finest work. 
You began your career with Guru Dutt. How was it working with him as an actress?
I was a newcomer when I started working with him. It was a nice experience. He was a good director, especially for newcomers. He would understand their shortcomings and problems and rectify it himself.
He would give us options to do things in different ways so we would find it easier. He knew how to extract performances from actors. It was very comfortable working with him from the beginning.
How was he compared to other directors?
I would say Vijay Anand was very good, and Ashish Sen, with whom I did Khamoshi, is also very good. The three of them had the rare talent to be able to push actors to the limits and make them perform.
Dev Anand was extremely cooperative towards a newcomer. He never made me feel that he was a big star and I, a newcomer. He built my confidence by telling me not to worry.
CID was your first film with Guru Dutt.
I was very nervous, but not to face the camera. I was conscious of my voice, thinking I had a very bad one. The recordists would tell me that while working, whether good or bad, you have to speak a little loudly. That was a great problem.
Any particular incidents you remember from the making of the film?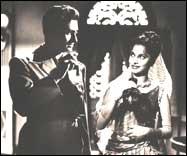 Yes. Once we were shooting at Mumbai's Churchgate Station after midnight. In those days, I would sleep very early. I was very sleepy. Dev and myself were waiting for the shot to be arranged, and I asked Dev why do we have to shoot at night? Why can't we just shoot the scene in the morning?
He replied very sweetly, 'Waheeda, because there is so much crowd in the day, so many commuters. We can't ask commuters and trains to stop for us!'
I felt very childish and silly to have asked that question. Naturally, the scene was night as well, and obviously we had to have shot at night!
Kahin pe nigaahen kahin pe nishaana was my favourite song of the film.
Pyaasa came next, a dramatic masterpiece.
Jaane kya tune kahi, jaane kya maine suni -- it was picturised very beautifully, people appreciated me very much in that song.
Funnily enough, the same thing happened. We shot late at night in Kolkata. During the shooting, I would fall asleep in my chair, and they would come and spray water on my face when the shot was ready!
Guru Dutt would ask me to drink tea, though I was not a tea drinker, because he said it would wake me up. Whenever I see the song now, I wonder how I did that while I was so sleepy! (laughs) It's so strange to see something on screen which was very different during its making.
How was Guru Dutt during its making? It was such an intense film.
In those days, I didn't have a great understanding of cinema, I was young -- just over 17 years old. I simply obeyed the directors. My advantage was, being a dancer, I could emote and give facial expressions. But dialogues made me nervous --the same mental block that I had a bad voice. I still feel that way. I still feel there is so much to learn.
I wish there were acting schools in those days. Maybe I could have done a better job.
Guru Dutt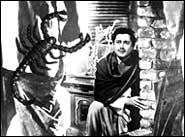 was a serious person, yes. He used to be very impatient, not with the artistes, but with the technicians --especially the camera crew. Jaldi karo, jaldi karo yaar, abhi tak shot kyon nahin ready hua? He was always in a hurry because he was constantly thinking about the next shot, the next scene, the next movie.
We often told him that you've just given the instructions, it has to take some time to execute them, be patient. But he used to be very restless.
Also, he used to shoot a lot of retakes. At first, people in the industry thought he was a novice director, and so didn't know the craft. But the truth is that he was never satisfied. Ek aur, ek aur, ek aur.
What used to happen with me was that my first take would be very good, and my second would wane, then the third would be fine again. This puzzled him, and he asked me why only my alternating takes were good. I would reply that it's because, between successive takes, I would lose all my energy!
But it was not just me -- his own performances, Rehmansaab, Mala Sinha, whoever -- he used to constantly shoot many retakes. He always felt that it could be better; it could be improved upon.
An obsessive perfectionist?
Oh yes, definitely! He was so involved with the technical aspects of the film. He used to discuss with V K Murthysaab, tell him how he needed a shot to look, how he had imagined it. He was lucky to get a cameraman like him -- they were a great pair with a very good understanding of each other. Their collaboration worked very well.
True, they crafted several memorable films together. Your next film was Kaagaz Ke Phool. What comes to mind?
Once, we were shooting a scene where our car meets with an accident. After that, I went home with the make-up, blood et al, and said I had met with an accident. The house was in an uproar -- why hadn't you called, are you all right, and so on.
Then I burst out laughing and told them. But the funny thing was that a month later, I actually met with a car accident. Thankfully, it was only a small accident, but the coincidence is something I still remember.
My favourite song from that film was Waqt ne kiya kya haseen sitam.
Your next film was Chaudhvin Ka Chand.
When Chaudhvin Ka Chand was released, it was a big success and very well appreciated. At that time, colour films had just started to be made, and Guru Dutt decided to take the title song of the film, shoot it in colour and rerelease it with new fanfare.
While reshooting the song in colour, they used hard, huge lights directly on my face, and my skin burnt; we had to shoot constantly with ice-packs being applied, and my eyes were red from all the heat.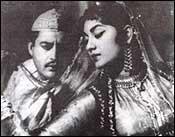 Later, we heard from the Censor Board that the song is very 'hot!' and lascivious, which shocked Guru Dutt. He argued it was the same shot, the same movements from last time, only shot in colour! They replied that Waheeda's eyes have turned red. He was bewildered, and said yes, but that happens while shooting, but what does it have to do with anything? They told him that it was very sensual and suggestive!
He came back and had a big laugh about it, 'yeh Censor waale'! (laughs) I guess if that Censor Board were here now, it would faint at seeing today's films!
Sahib Bibi Aur Ghulam was your next major collaboration, and there is curiosity always surrounding this film. It is rumoured that Guru Dutt directed the film, but gave Abrar Alvi (his writer on several films) the directorial credit?
Not really. Of course, he did help Mr Alvi throughout but this was because the two were close friends, and he felt like giving Mr Alvi the chance to direct a film. I'm sure he helped quite a bit, but then any director, when giving a film to a colleague, does take interest and lend a hand of support. But Guru Dutt did not direct the film.
Leaving films aside, how was Guru Dutt as a person?
A very simple and down to earth human being. Even after the early success of CID and Pyaasa, he didn't suddenly change and become arrogant. Very quiet and simple, he was a very sensitive man. He always felt for the underdog. He was an emotional person.
When did you first meet? On the sets of CID itself?
I first met him in Hyderabad, where he called me over to Mumbai, for the screen test. Then I shot just for CID for a couple of months, exclusively, after which we began work for Pyaasa.
Guru Dutt is a legend, and immortalised cinema. He was an institution, and much is studied about his films. But outside of movies, what were his interests?
Actually, after the shooting is done, there is not much interaction. So much time spent professionally together means mostly all the industry folk try to get away from film as much as possible when they aren't working. Social interactions are at a minimum, except occasionally running into each other at a child's birthday party, etc.
| | |
| --- | --- |
| | More on rediff.com! |
| | |
I know he used to go for fishing a lot, with Johnny Walker! He really enjoyed fishing, and the two have taken us along a few times as well, but mostly they were impassioned discussions about fishing the next day at the sets, about how big a fish they caught yesterday, etc. I'm not sure about other interests, but he loved fishing!

Have you ever seen him in a bad mood?

Well, as I mentioned, he did lose patience on the sets quite a bit. But even besides that, he would often lapse into spells of silence. While we'd all be gathered around chatting about the latest English films or whatever, he would be sitting by himself, totally lost and away from the world around him.

We used to call to him, and he'd 'wake' with a start. He'd be thinking about something else, very distracted.

How did the box office affect him? Did it matter a lot to him whether his films did well or would he just carry on ahead regardless?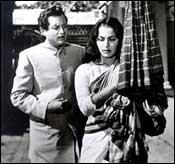 After Kaagaz Ke Phool flopped, which flopped miserably in those days, we immediately started work on Chaudhvin Ka Chand. He was disappointed, but he also instinctively knew somewhere that yeh film itni badi bani hai, shaayad nahin chalegi -- he was very philosophical about it all.
Chaudhvin Ka Chand was a great success. It didn't affect him in the way that a hit would make him yell and jump for joy, and a flop would make him cry. He was the same, and it was life.
He used to say, "Life mein, yaar, kya hai? Do hi toh cheezen hai – kamyaabi aur failure. There is nothing in between."
How would you sum up what one could learn from Guru Dutt?
He was very sensitive towards struggling artists, those hardpressed for money. He used to really feel for these people, he was very sympathetic. He used to pick up forgotten artists -- like Rehmansaab made his comeback through character roles; and former leading lady Ruby Meyer -- as he felt that merely a bad patch should not be the parameter to judge a person by.
For example, he got a lot of criticism from colleagues when he gave the directorial reign to Sadiqsaab for Chaudhvin ka Chand: they told him that his last films have been a flop, why are you letting Sadiq direct this? He disagreed and explained that, being from a Muslim background, Sadiq might better know the delicate nuances I might be unaware of. The film has to be made without compromise, that is the main thing. And what of flops? Meri Kaagaz ke Phool bhi to flop hui thi.
October 10 was a very tragic day. As a colleague and friend, do you know why things happened the way they did?
(sighs) Till today, nobody knows. Just this evening, I was speaking to his sister (Lalita Lajmi) and niece (Kalpana Lajmi). Nobody really knows what happened.
At the time, I wasn't in Mumbai, I was in Chennai and returned to this horrific news. I do think he had tried a couple of times before that, as well. I'm not aware of his mental state at the time either, since when you move on to a different project, you get caught up entirely in it. It's just very sad, and a great loss for cinema and all of us. A very tragic day indeed.