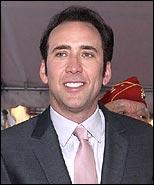 Despite Nicolas Cage's seeming denial about the finality of his working on the Ghost Rider movie project last week, fears of fans have been laid to rest as news.com.au reported an official movie announcement that Cage has indeed been 'locked' for the role.
Ghost Rider, yet another big-screen Marvel comics adaptation, is slated to follow in the footsteps of recent massively successful predecessors like the Spider-Man and X-Men franchises. This is one of Marvel's most macabre titles, about a demonic motorcyclist who gives up his day persona of stunt biker, as well as his face, at night, to be replaced by a blazing skull and armed with relentless hellfire.
At best limited to a cult classic at its highest in the 1970s, the film will probably be a less mainstream release.
The film, set to shoot in Victoria, Australia, is the biggest feature film to be made in the country. Directed by Mark Steven Johnson, the project is set to employ 500 people over five months. The Columbia Pictures film will begin shooting in end January.
Cage will play the lead role of Johnny Blaze/Ghost Rider, equipped with a CGI skull at night. The most promising thing to be anticipated about this project is the killer soundtrack, with metal bands from the most appropriate (Iron Maiden, Megadeth) to sadistic lyric-wailers (Sepultura, Godsmack) all expressing a curious interest to come aboard.
Photograph: Getty Images