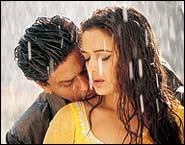 It's gross but true. When you got to itch, you got to itch. Scratching a couple of times may provide much needed relief but try doing that incessantly and a rash is guaranteed.
Chill, you are not on the wrong page. This is not a discussion on inflammation of the skin. Yes, it still is the review of the much-awaited Diwali release, Veer-Zaara. The point of the entire description above is simple: Veer-Zaara works like a rash. It tries to drive the same point again and again into your system till you either succumb to it or miraculously produce an antidote.
Basically the filmmakers have a strategy based on which they promote the film as a 'love legend'. So whether you are ready or not, this spoonful of gooey, old world, sentimental romance will be thrust down your throat like that gluey rice porridge Mommy forced into your salivating mouth as a 7-month-old.
Oh, but didn't you somewhat enjoy the taste of it initially? Ditto with Veer-Zaara. It's not entirely inedible. You got to watch it like any other Yash Chopra film – with your eyes and heart wide open. After all, apart from that stray Vijay and Parampara, the King of romance had never given any reason to complain.
| | |
| --- | --- |
| | More on rediff.com ! |
| | |
Like any other Yash Chopra film, it has oodles of open-air romance, sensual chemistry between the lovers and teary-eyed emotionality.

 

Like any other Yash Chopra film, it has multiple cameras zooming in and out of mustard and sunflower fields, gushing waterfalls, snow-clad mountains and untimely rains.

 

Like any other Yash Chopra film, it has its hero and heroine running towards each other from opposite directions to give that one passionate embrace.

 

Like any other Yash Chopra film…wait a minute. Am I saying Veer-Zaara is like yet another Yash Chopra film? Guess I am. But then the makers need some strategic difference to project is as a 'love legend'. Oh yeah, the hero, Veer Pratap Singh (Shah Rukh Khan) and the heroine, Zaara Haiyyat Khan (Preity Zinta) belong to different nationalities – India and Pakistan, respectively. You don't need to be too focused to notice just how much stress is given on their names and nationalities. It also stresses on how to improve the social standing of the fairer sex.  You soon reach a point of 'okay, okay I get it. Now, can we get on with the movie please?'  As Amitabh Bachchan's character (in a guest appearance) casually points out, "Hindustani ho, Pakistani ho ya phir Chini, Japani - ki farak painda hai"?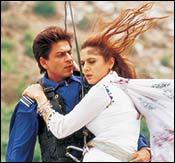 The story of Veer-Zaara, in a nutshell, revolves around two individuals who fall in love in two days and are forced to spend 22 years apart from each other owing to circumstances. Veer is now in a Pakistani jail serving for no crime or reason. He is a 50-something wobbly old man whose ca(u)se is taken up by a lady lawyer Samiya Siddiqui (Rani Mukherjee). Where is Zaara? What is the original problem? Now now, that would be telling.
The funny thing, however, is that it's not that the Indo-Pak factor that really works against Veer and Zaara. The real reason is so ridiculous that at the end of it you feel it's you and not them who have been inflicted with needless tragedy.
How's the acting? In an interview, Shah Rukh Khan said," I sleepwalk through romantic roles now". The actor has endured enough love-shove for this lifetime to go wrong playing lovelorn characters. And his Veer is no exception.
This is his third film with Preity after Dil Se.. and Kal Ho Naa Ho. In the earlier two films, the duo never really gets a chance to romance larger-than-life, but here they share a warm chemistry.
Preity does a good job at playing a Yash Chopra heroine: she looks dreamy and plays her Zaara with grace and restraint. While Rani Mukherjee walks away with the best lines and a performance full of grit.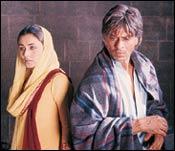 Technically, art director Sharmistha Roy and cinematographer Anil Mehta give Veer-Zaara a lustrous classic look. Costume designer Manish Malhota too comes up with a wardrobe full of gorgeous clothes for the leading ladies.
The film's writer, Aditya Chopra, is rather obstinate in sketching his characters. The nature of his protagonists is more or less linear, which makes them quite predictable. The same can be said about the screenplay.
Veer-Zaara has a new backdrop, but takes the same route as his previous love stories. Though Yash Chopra lends his brand of freshness in creating a visually captivating picture, Aditya's script is overtly sappy and unnecessarily lengthy. Half an hour of the film could have been easily chopped off from its 210-minute running time. The music by the Late Madan Mohan is mellifluous, but there are too many songs. One would rather see Veer, Zaara interact and fall in love instead of singing songs in sugarcane fields. 
So what if Veer-Zaara is not really a legendary, memorable blah blah, saga of love and blah blah. So what if it is not even among Yash Chopra's best works. It is poised to make big bucks at the box office and may even pick an award or two next year. So if you are a fan of the Chopra factory of filmmaking and looking for plenty of eye-candy, Veer-Zaara promises to make your Diwali a happy one.