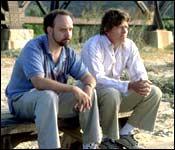 A smart, heart-warming and mysterious story of hidden tensions in friendship, Sideways is an unexpected treat that also proves Alexander Payne as a director who can handle his success. His previous film, About Schmidt, got critical applause and featured Oscar winners Jack Nicholson and Kathy Bates, whose presence assured it a decent opening.

Payne could have signed stars for Sideways, but chose instead to cast Paul Giamatti. Giamatti remains one of America's relatively unexploited treasures despite his splendid work in such films as American Splendor. As his buddy, there is Thomas Haden Church, another little known actor also startling the audience with his strong performance. Superbly playing up the shameless, duplicitous snobbery of his character, Haden Church nearly steals the movie from Giamatti.  Payne gets very good work from two women who are not exactly household names: Virginia Madsen and Sandra Oh. The movie is worth seeing for the unexpected pleasure of watching these four artists excel in scene after scene.

Seeing these relatively smaller artists excel in a film filled with subtle comedy and emotional complications is a delight to anyone craving cinema that eschews grandeur and sci-fi effects. The film instead spends its energy to create a soul-warming experience. Sideways is a bittersweet movie with many magic moments about the human condition. It qualifies to be the year's most admired sleeper hit that will mesmerize the audiences across the country because of its warmth and insights.   


| | |
| --- | --- |
| | More on rediff.com ! |
| | |
The film's success owes considerably to the succinct script by James Taylor. Payne and Taylor's combination here offers a much more compact and insightful film than their previous work, About Schmidt.           

Sideways is currently showing in a handful of cities. It  will have several expansions in the coming weeks. In New York, where it is running at two theaters now, the film will be adding more screens on Friday.

Giamatti plays a middle-school English teacher, who has failed in his personal life, his wife having divorced him two years ago and no publisher showing interest in his novel. But he has something to be proud of: he is convinced that he is a real wine connoisseur. His pronouncements on his favorite wines are overblown and Giamatti brings out the pomposity and absurdity of Miles's character quite subtly. And in the process his underplayed performance turns out to be one of the strongest in recent years. 

Jack (Haden Church) is Miles's college buddy, a washed-up TV actor who seems to be more mature and better placed than his friend. Besides, he is about to marry into a rich family. Only when the two friends begin to spend many hours together do we realize the hidden shallowness in Jack.

Miles proposes a trip to California's wine country to help the groom-to-be prepare for his wedding, while simultaneously also indulging in his own wine passions. Jack, on the other hand, hopes to get his "bone smooched" by alluring waitresses.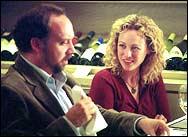 Maya (Virginia Madsen), a wine-obsessed waitress, catches Miles's attention but he doesn't have the guts to hit on her. Jack sets up a date for Miles with Maya by flirting with Maya's sexy friend Stephanie (Sandra Oh), a single mom.

Jack, whose character becomes increasingly self-centered, flirts with Stephanie but doesn't tell her about his fast approaching wedding day. Upset with Jack's treachery, Stephanie wants to avenge her humiliation.

Her plans lead to an unexpected, mature and delightful climax.

Some of the film's best moments involve the courtship between Miles and Maya: Their wine talk is quite funny, but behind the hilarity there is a certain amount of sadness about people who cannot be upfront about their emotions. By a simple definition this film is a comedy but one cannot escape its underlying and lingering sadness.

CREDITS
Screenplay: Alexander Payne and Jim Taylor, based on the novel by Rex Pickett
Starring: Paul Giamatti, Thomas Haden Church, Virginia Madsen and Sandra Oh
Direction: Alexander Payne
Rating: R for strong language, sexual contact and brief nudity
Running time: 2 hours