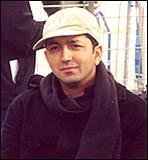 He first made the not-so-successful Mujhse Dosti Karoge.
But Kunal Kohli will rush to tell you that it is one of the highest grossing films for Hrithik Roshan in the UK. In conversation with Faisal Shariff, Kohli talks about the next venture he is hopeful about — Hum Tum, releasing May 28, starring Saif Ali Khan and Rani Mukerji:
This is your second film. Like your first movie, Mujhse Dosti Karoge, Hum Tum is a romantic film.
Stop, stop. There is nothing in the film just like the first one.
Okay. So could you elaborate?
Hopefully, I will be right when I say this. There is nothing in this film like the first one. You must be getting a lot of 'this is a different film' and you get the same film week after week [laughs]. But honestly, I have tried to make a different film.
But the genre would be romance, right?
Would you brand a film like Pakeezah, Mughal-e-Azam, Dilwale Dulhania Le Jayenge, or Dil Chahta Hai as a romantic film? Are they all in the same genre? They are different categories of romance. They are different styles of romance.
Romance is a very broad genre. Else there will be only five types of films in the world — romance, thriller, action, horror and comedy. Under those, there are different genres, right?
What is the essence of Hum Tum? How would you describe the film?
I would say it is more like [John Gray's] Men Are From Mars, Women Are From Venus.
Generally, in romantic comedies, the boy meets girl, they have a problem, they separate and come back together.
Hum Tum is a more current film that talks about relationships that lead to romance.
All this pehli nazar mein pehla pyaar is crap. We build on relationships. We develop relationships. Then we come together with somebody. Hum Tum looks at that: how you go through different relationships, different people in life before you finally come together with the person you intended to be with.
No one has seen the film. But there is a lot of talk that the film is inspired from When Harry Met Sally. Is it true?
It is inspired from the genre When Harry Met Sally belongs to. When Harry Met Sally is a romantic comedy. So is Notting Hill. But would you say they are the same films? When Harry Met Sally is a conversational film. In that sense, Hum Tum too is very conversational.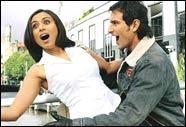 I did a lot of research on When Harry Met Sally. One of the reasons why When Harry Met Sally was a success was that it spoke about things that were not spoken about earlier on the American screen. That is what I tried to do in Hum Tum.
Hum Tum is very true to life. The conversations are like you will feel you are eavesdropping on two people talking. It's not filmi, not dialoguebaazi. There is no loud, jarring background music, people charging on each other. There is no filmipana.
Did you have Rani Mukerji and Saif Ali Khan in mind when you wrote this film?
Rani was quite strongly in mind when I wrote the film. I have a very good working relationship with Rani. She is one of the few people who supported me when people were making fun of Mujhse Dosti Karoge.
Whenever any director writes a film, he writes with the image of an actor he has in mind. I wrote it with someone like Aamir Khan in mind. When I finished the script, I thought it was too young a character for Aamir to portray. I thought Saif fit the bill quite well.
In a recent interview, you said that you weren't confident about Saif Ali Khan until Kal Ho Naa Ho happened.
I never said I was not confident about Saif. Also, it is not just my conviction that was needed. Aditya Chopra and Yash Chopra, who put in the money, had to be convinced about this project. Just the director having confidence in somebody is not enough. The producer has to back the project.
They [Aditya and Yash Chopra] back films. They don't back projects. They are not like, "Let's make a film with this hero because he is hot and saleable." They say, "Yes, this is a good script. This actor suits this script. So let's make this film irrespective of his standing at the box office."
What do you think went wrong with Mujhse Dosti Karoge?
The timing. From the time I wrote the script to the time the film released took about three-and-a-half to four years. A lot changed by then. Audience tastes had changed. That changes very fast. If a film takes long in the making, it ends up looking outdated. That's what happened with Mujhse Dosti Karoge.
It was a script everybody liked. Yash and Aditya Chopra, Rakesh and Hrithik Roshan, Kareena Kapoor, Rani Mukerji, they all liked the script.
Were you low on confidence when Mujhse Dosti Karoge hit the marquee?
I would say I was overconfident.
But then you said it wasn't fresh.
I realised that later on [after the release of Mujhse Dosti Karoge]. Had I realised it earlier, I would have changed something or reshot some portions.
This is something the audience told us. You don't realise your film is outdated till you sit in a theatre with 900 people. That's when you realise.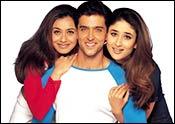 But Mujhse Dosti Karoge is Hrithik Roshan's biggest hit in the UK till date. It is on number 8 in the all-time hits of Hindi cinema in the UK. It earned about 820,000 pounds. I admit the film didn't do well in India, but in the UK it was a blockbuster.
I have learnt that you have to make your film fast. You can't wait for an actor for one year, shoot the film in one year, and then release it in six months. It's a waste of time.
What is the USP of Hum Tum?
Everyone brags about their film. I don't want to do that. That's for the audience to decide. They might like something. They might not like something.
I would rather you called me on Friday and let me know if you liked the film. My saying something is like showing off just now.
All the best jokes seem to be aired on the promos.
Not at all! There are many more jokes and punchlines in the film [laughs]. We have hardly come up with seven-eight jokes [on air]. There are many more in the film. I hope the audience enjoys them.
It [the promotional campaign] is a marketing trick. For example, when a James Bond film releases abroad, the highlight is the first stunt that happens. Before the movie comes out, they have the making of the scene shown on television. We are so overprotective of our film that it's like, "Arre yeh nahi dikhana hai."
Hum Tum is not a film that can be promoted only with songs. It is about dialogue. It is about conversation. The songs don't do complete justice to my marketing. I have to show my dialogue.
There is a huge animation aspect of the film. It has been done in India by Kathaa Animations. The animation is part of the narrative. Saif plays a cartoonist in the film.
Today whatever buzz Hum Tum has is because the trailers look different from other film trailers.