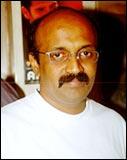 Ravi K Chandran is one of India's leading cinematographers.
Witness his imaginative camerawork in Farhan Akhtar's Dil Chahta Hai and Rakesh Roshan's Koi… Mil Gaya and you'll know why.
He also won acclaim for his work in Mani Ratnam's last release, Kannathil Muthamittal.
Chandran, who is currently filming Sanjay Leela Bhansali's Black, shares his experience of working on Ratnam's new film -- he is part of both the Hindi and Tamil versions -- with Shobha Warrier.
Mani Ratnam's new film [Yuva and Aayitha Ezhuthu] has three protagonists from three different stratas of society. I shot them differently. One is socially conscious, one very angry and violent and the third very self-centred.
Take Madhavan's character [played by Abhishek Bachchan in Yuva]. He is from the slums. He is very violent. I have kept red as his background colour. We shot this character with a hand-held camera with quick cuts because we wanted to show his edginess through the camera. His shots are not glamorised at all. It is supposed to hit you hard.
On the other hand, Siddharth [played by Vivek Oberoi in Yuva], the son of an Indian Administrative Service officer, wants to go to the United States. He is not bothered about what is happening around him. He is only concerned with his life. I shot him with long lenses and made all that was around him out of focus. His colour scheme is blue. Everything about him is shot very stylishly.
Soorya [played by Ajay Devgan in Yuva] is an idealist. He is the son of a widowed mother. His father was also an idealist and a revolutionary. He is a born leader and fully aware of what is going on around him. I shot him with wider space and with a lot of people around him all the time. Students, members of various unions and ordinary people always surround him. His background colour is green.
I shot all the three [characters] in three different negatives to get a distinct effect.
The Tamil film is set in Chennai; the Hindi one in Kolkata.
I enjoyed shooting in Kolkata. The West Bengal government gave us permission to shoot wherever we wanted. I could picturise the ancient beauty of the city. Everything about the city is so beautiful that the Hindi version is visually more appealing. Even the colour of the taxis is so vibrant.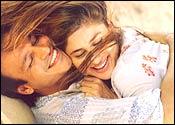 Initially, we had no plans to feature any songs in the film. But they [songs] were so good that we decided to shoot them too. After the songs started appearing on television, I received eight to nine offers. 
The film was planned in a very tight schedule of 90 days. It got extended.
The good thing about Mani Ratnam is that he gives you the full concentration and energy required to shoot. This was very important as we wanted to shoot both versions of the film simultaneously.
Don't miss:
Abhishek Bachchan:Yuva is an honour
Yuva shows a different Rahman
Mani Ratnam's Young Guns
Mani Ratnam's latest film