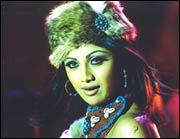 A Shilpa Shetty film has been long in coming. You saw her last as a heroine in a bit role in Darna Manaa Hai. And as a solo heroine in the little known Karz.
Now, she's back with two films: Garv and Phir Milenge. Coincidentally, she stars opposite Salman Khan in both films.
If Garv sees Shilpa at her glamorous, sexy best, Phir Milenge showcases her as someone who is, as she says, "HIV positive."
More on her films in conversation with Senior Associate Editor Syed Firdaus Ashraf:

What is your role in Garv?
I play an Muslim orphan. Her name is Jannat. She is a bar dancer. She admires the hero, Salman Khan, because of his integrity. She thinks all men look at her as a body, but this man treats her like a human being.

Did you do any homework for this character?
Not really. This is not very serious role like Tabu's in Chandni Bar. It [Garv] is essentially a cop drama. My character is involved with the hero. We [the makers] have concentrated on that. We have not concentrated on the turmoil that goes on in her life.

Tabu played a bar girl in Chandni Bar. Kareena Kapoor played a streetwalker in Chameli. Are you also trying to follow in their footsteps by doing different roles?
I don't believe in following anyone's footsteps. I am doing this film [Garv] because I liked the subject. It is a big budget film and I know it will be presented well. That is the only criterion for me to do Garv. I am not here [in the movie] to make an impact. It is a male-dominated film.
You are working in Phir Milenge, which deals with Acquired Immuno Deficiency Syndrome [AIDS]. Comment.
Anand touched on cancer. Why not a film on HIV positive patients? It is a social stigma in our society. We made this film to highlight this problem.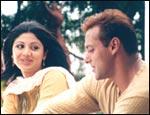 It is not preachy. It is a very sweet love story. It is the journey of these characters Abhishek [Bachchan], Salman [Khan] and me. In the midst of which the spectre of this HIV positive pops up. I keep emphasising HIV positive because I didn't know the difference between HIV positive and AIDS. AIDS and HIV positive mein zameen aasman ka farak hai [There is a world of a difference between the two].
This film will bring about a social awareness about AIDS in our country. It is high time we talked about this in our society. Remember there was a stigma associated with tuberculosis earlier? But that has changed with time, hasn't it?

You aren't doing too many films. Is that a deliberate decision?

I have become selective because I can afford to [laughs]. I want to do meatier roles.
It is always great to be glamorous. I have enjoyed the jhatkas-matkas in all my films. I want to balance that with films like Phir Milenge. But there is another problem. If you do serious films, people think you are only open to arty films. I want to strike a balance between the jhatka-matka and serious films.
I am doing Dus because my character is very unconventional. I am playing an anti terrorist squad member. I wear holsters, use guns and my hair is all tied up. I don't look pretty in the film. I look tough. It is a meaty role and has given me the chance to reinvent myself. I am now looking for roles that are different. I want more paradigm shifts in my role.

What about item numbers?

I am doing those too. That is why Garv. Item songs have made Shilpa Shetty. I cannot be disrespectful toward them. I just think I have more potential. I want to tap it by doing other kind of roles too

I feel more confident after Phir Milenge. Dhadkan changed people's attitude towards me. People felt I couldn't fit into other characters, but Dhadkan proved them wrong.

Is there any particular filmmaker you have always craved to work with?

Yes. I want to work with all those directors who would love to work with me (laughs). I would love to work with Steven Spielberg, but he should also want to work with me (laughs).
I would love to work with Mani Ratnam. Also, Shankar and Ram Gopal Varma -- I respect them because they are very different and they take risks in making films.

Many heroines who entered the industry with you have tied the knot. Any plans of getting married?

I don't know. Marriage is not planned. It just happens. I don't think it will happen for another two years. My priority lies here [in the film industry] now. I won't leave my producers in the lurch. I will make a fair exit before going for that decision.

Have you achieved everything in life?

You think I have achieved everything?

Well, you have lasted ten years.

Yes. I take that as a compliment. In terms of achievement, every artiste is greedy. You don't know where to put a fullstop. I want to be remembered. I hope to carve a niche for myself after doing the films [I am doing] this year.

Did you expect to last so long?

Nobody does. There have been many times that people have written me off. Five years ago, I was completely written off. Then there was a Dhadkan and I came back. I didn't have a release for a year and people wondered where I had disappeared. I always feel there is a lull before the storm. Like now [laughs]! I have so many films ready for release.

You are working with Salman Khan in three films. Is it a coincidence?

I did Shaadi Karke Phans Gaya Yaar some time back with Salman. It was supposed to release almost a year ago. It got delayed because of some date problems. One song has to be shot and that too will be released soon.
For Phir Milenge, I was signed first. Then came Abhishek followed by Salman. I could not tell Revathy not to take Salman, could I? I fit those characters and so did Salman. He is a very dear friend of mine. The rapport [we share] is fantastic. He is very helpful. He is not self-serving. If I do something wrong, he tells me where I am going wrong.
What are your future projects?

This year, I am doing Dus, Kanch, Shaadi Karke Phans Gaya Yaar and Khamosh. Next year, I am doing a film with Amitji [Bachchan]. Vikram Bhatt will direct it.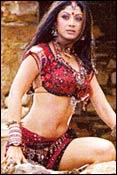 Aren't you also part of PETA (People for Ethical Treatment to Animals)?

I feel very strongly towards this cause. There is too much injustice happening towards animals. My entire family loves animals. Our pets at home are family. I was appalled when I came to know what atrocities animals are subjected to in the circuses. I thought I should stop that. If I can make a little difference to their lives, why not go for it?
Do you read books?
 
I do read but I am not a voracious reader. It is not like I cannot do without reading. Right now, I am reading scripts [laughs]. They are stories. [There is a book named] Many Lives, Many Masters. I forgot the author's name [Brian L Weiss]. He is awesome. He writes on past life regression. That intrigues me. He has also written Only Love Is Real.
How do you keep so fit?

I used to work out regularly. I don't diet much. To be fit is very important to me. I don't go overboard on what I eat. I am genetically blessed.