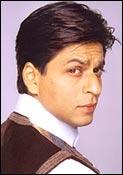 Lekh Tandon has films like Amrapali, Dulhan Wohi Jo Piya Man Bhaaye, and Agar Tum Na Hote to his credit.
He then shifted to television to make serials like Phir Wohi Talash and Dil Dariya.
His claim to fame includes introducing Shah Rukh Khan.
Though Fauji was SRK's first serial to be aired, the serial he began shooting for first was Tandon's Dil Dariya.
Now, the two are working together again, this time as co-stars in Ashutosh Gowariker's eagerly anticipated Swades, Tandon tells Lata Khubchandani:
Do you think you are responsible for giving Shah Rukh Khan a break?
I can't take credit for anything. It was his destiny.
How did you two meet?
I met him when I was in Delhi, doing the casting for a serial I was working on at that time.
Did he approach you for a role?
No. He had actually come to drop another girl, who was an actress' daughter. I was thinking of casting her. He brought her to me and was going off when I glanced at him and was struck by his looks.
I asked the girl to call him. I told him about the serial and that I would like him in it. He was willing. [At the time] I didn't know that he had already acted in school and college [plays] and was training under Barry John in Delhi. All I knew was that he had the looks I wanted.
When you have a vision in mind, nothing else will suffice except fulfilling that vision. Even if Amitabh Bachchan had come to me at that time, I wouldn't have taken him.
I asked him [SRK] to cut his hair because he had long hair. He protested, saying, "I'll cut my hair and then you won't cast me. I don't want to do that."
I assured him I would cast him. Next day, he came with his hair cut. And he was cast in Dil Dariya.
But wasn't Fauji the first serial he worked on?
No. He shot for Dil Dariya first. Fauji came on air first, followed by Circus. He featured in all three [television serials].
When I see where he [SRK] has reached [today], I feel who am I to claim any credit for his being here [on top]. It is his destiny. It was the right moment, the right hunch, and Nature running her course that made it happen.
Do you two keep in touch?
Yes. We are working in Swades. I am acting in the film with him. The film brought us together after a long gap.
I must give him credit for making me comfortable. He was so nice to work with. It was a pleasure.
[Director] Ashutosh Gowariker cast me in the film. This time, I am on the other side of the camera. It was quite an experience. Ashutosh has done an admirable job.