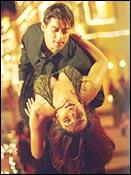 Hurray! Bollywood has discovered a new brand of filmmaking. This genre takes a little bit of everything from east, west, south, and north and spruces it up with its own inimitable touch of spunky masala. And its intentions are almost always of the do-not-take-us-seriously kind.
Cynical critic: Ha! Another Main Hoon Na!
Pretty much! Mujhse Shaadi Karogi is an extension of the 'spoof' genre. It doesn't let you get too involved. You don't have to be committed to any protagonist. You don't even have to connect to any situation. You just retire in your chair, gobble those crunchy popcorns, and get what you paid for: entertainment!
Cynical critic: Oh, like those funny VJ Cyrus Broacha shows on MTV?
| | |
| --- | --- |
| | Don't Miss! |
| | |
Not really. Those are best enjoyed on the idiot box. This is the big screen. Everything has to be larger than life. Like the story of Mujhse Shaadi Karogi is set in Goa. But no scene is shot in the province of beaches. It's all Mauritius and Dubai.

Cynical critic: Big deal. As if Sanjay Leela Bhansali shot Devdas in Bengal. It was all in Mumbai's Film City, remember?

True. And I don't want to start a debate on geographical accuracy. Mauritius or Dubai, the film is vibrantly shot (by Sanjay F Gupta). The beaches look stunning. The screen is consistently filled with colourful clothes and characters.

Cynical critic: Colourful or insane characters? I cannot imagine a normal guy in a David Dhawan film.

In that case, you won't be disappointed. Here, you have a retired colonel (Amrish Puri) who is obsessed with his pug, Tommy. His wife (Supriya Karnik) sports a hairstyle like that of the model in George Michael's music video of Father Figure. And their fashion (read: bikini) designer daughter Rani (Priyanka Chopra) loves to do the 'Full Monty' on her balcony, much to the neighbours' delight.

Oh yes, the neighbours are as nutty. A motley crew of oldies (from the Fevicol commercial) are the first to react every time the colonel has an accident. Then there is the landlord with the varying disability. One day he is blind, on others he is deaf or mute.

Cynical critic: I can bet a million dollars it is Kader Khan.

Bull's eye! There is a pair of crazy twins (Rajpal Yadav) too. One is an astrology freak. The other is straight out of Mansoor Khan's Josh. He dresses up like Shah Rukh Khan's character in the film and rides about the lanes of Goa with his gang, intentionally called The Eagles.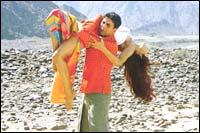 Cynical critic: You think SRK is any better? Remember how he makes fun of the hairstyles in Dil Chahta Hai in Kal Ho Naa Ho?
Let's not get into that. So, where was I? Crazy characters, right? Who's left? The heroes, yes. Let's start with Sameer (Salman Khan). He leaves Mumbai and comes to Goa to nurse his broken heart and control his bad temper. He works at a beach house as manager cum lifeguard. Sameer is a fine guy. But every time he tries to get Rani's attention, it's a disaster.
To make matters worse, his unbelievably sleazy, roguish, manipulative roommate Sunny (Akshay Kumar) enters the picture. Sunny also has a theme number 'Wicked Sunny. He'll kill for money', which plays in the background whenever he appears.
Both Sameer and Sunny woo Rani. While Sameer ends up trying too hard, Sunny gets away with his high-handed tricks.
Cynical critic: What's new? David Dhawan already tried this storyline in his earlier comedy, Deewana Mastana.
Agreed. But did Deewana Mastana have one Govinda fighting multiple Anil Kapoors?
Cynical critic: No, The Matrix Reloaded did. It had Keanu Reeves fighting innumerable Agent Smith clones. Boy! That was something.
Yeah, so that's where the makers got the idea. There are echoes of Sai Paranjpye's Katha and Peter Segal's Anger Management. Here and there you are reminded of Baywatch, Chashme Bhadoor, Never Been Kissed, Andaz Apna Apna and Hera Pheri too.
Cynical critic: Originality was never a virtue in Bollywood.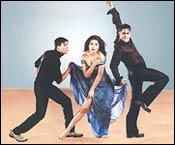 Look at Mujhse Shaadi Karogi as a package deal. You get to see ramp shows, Matrix-style action, Tom and Jerry-like bantering, a desi Baywatch, vivaciously choreographed (by Farah Khan) songs and dances.
Cynical critic: Channel surfing on television is no different.
Beat this. A cricket match with Irfan Pathan, Mohammed Kaif, Harbhajan Singh, Javagal Srinath, Parthiv Patel, and Ashish Nehra replete with Navjot Singh Sidhu's metaphor-infested commentary and Kapil Dev's verbal bhangra in Punjabi. Mujhse Shaadi Karogi has all this.
Cynical critic: Well, I hate to admit it, but I am intrigued.
You will also enjoy the camaraderie between Akshay Kumar and Salman Khan. Both actors share good comic timing. Though they have played these characters before. Akshay played the guy who gives Suniel Shetty a hard time in Hera Pheri. Salman was at Aamir Khan's receiving end in Andaz Apna Apna. But it is Akshay and Salman's refreshing chemistry that makes the humour click.
There is one more actor who deserves special mention.
Cynical critic: Priyanka Chopra?
No. She is average. She doesn't show any flair for comedy. She only lends glamour to Mujhse Shaadi Karogi.
Cynical critic: Well?
It's Amrish Puri. He rocks in the scene where he groans for his missing Tommy. The scenes where he curses Sameer after every accident are also hilarious.
Cynical critic: Oh well, why don't you simply say you liked the film?
Sure. It's a screwball comedy with gorgeous visuals, crisp editing, and fine performances. David Dhawan gets it right.
Cynical critic: What the heck! I'll see it anyway!