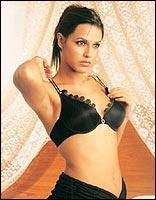 Julie is a fairly good movie. But in hindsight all the hype about exposure, a 'topless' Neha Dhupia, and a 'bold' subject was essential because it is also an unremarkable one.
The film is about a girl from Goa, a very optimistic girl, who has sweet dreams of a ghar, grahasti and parivar. Sadly, her boyfriend is only interested in money, a successful business, and all that goes with it.
He pursues his dreams, leaving her in the lurch. The heartbroken girl lands in Mumbai. Just when things seem to be going her way, she encounters, and is disgusted by, the Money-Is-Everything attitude of some of the city's residents.
Up to here, the story is predictable. Why she decides to take up prostitution, however, is something that I could not grasp.
| | |
| --- | --- |
| | More on rediff.com! |
| | |
But with all the hype, one did expect some amount of exposure and titillation. The former was handled well while the latter, if intended, was not up to the mark. The hype was much better.

In fact, there were hardly any catcalls or whistles, though I distinctly remember seeing one young man practising his whistling before entering the hall. Poor chap must have been left cold by the dogged manner in which director Deepak Shivdasani backed his story.

So, if you do not get any seats in the balcony, you can always try the front benches.

The subject is definitely bold because Julie is not one to hold back till marriage. For her, simplicity is only a state of mind. Dhupia is no scene-stealer, but with a restrained performance she imparts a certain sincerity and life to the character and her story.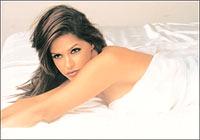 There is absolutely no chemistry between Dhupia and her male co-stars, except Sanjay Kapoor. The other men seem totally out of sorts while interacting with her.
One of the good things is that the social message is restricted to the last 15 minutes. Until then, Shivdasani sticks to narrating his story. I only wish he had done it a bit more quietly; the soundtrack is loud and atrocious.
Another good thing is that the narration does not slacken.
The film relies entirely on Dhupia and she does not disappoint in the title role. Irrespective of how the audience reacts, it will look good on her portfolio.
CREDITS
Cast: Neha Dhupia, Sanjay Kapoor, Priyanshu Chatterjee, Yash Tonk, Achint Kaur
Director: Deepak Shivdasani