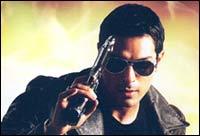 One thought kept niggling me as I watched this Friday's release Asambhav. What was director Rajiv Rai thinking when he saw the complete version of his film for the first time?
Did he like the anti-Pakistan theme in the film, and the strong Indian patriotism that finally wins the day?
Maybe he liked the slick action sequences and Arjun Rampal's bulging sinews.
Or did he think the plunging necklines and pouting lips would save the day?
| | |
| --- | --- |
| | More on rediff.com! |
| | |
I mean, did Rajiv Rai honestly like the film? Or did he simply see it as a means to make money?

Asambhav, starring Arjun Rampal and Priyanka Chopra, is a sorry excuse for a film. It packs in the done-to-death Pak-bashing content, and reduces Pakistanis and Afghans to caricatures.

When the President of India (Mohan Agashe) gets kidnapped and is held captive in Switzerland along with his daughter (Dipannita Sharma), India sends only one man to get him back. Of course, the staunch patriot and soldier Aadit Arya (Rampal) single-handedly defeats all the three parties that are behind the kidnapping. That is, after he is done with singing, dancing, and romancing a distraught singer (Chopra).

The story is older than the hills! But if it had been done well, like in Main Hoon Na to an extent, I would not have complained. But as the film progresses, it only gets worse.

The performances are the worst. I will not point a finger at Rampal, who looks incredibly hot in the film. He is not required to really act. All he has to do is look serious, beat up some guys, and dance on a few occasions. And he does that well.

I will not point a finger at Chopra either. For a beginner, she has done well. Her career in the film lies somewhere in-between that of a popstar and a nightclub singer. So, her fashionable outfits seem justified. Having said that, she has a long way to go. She does have her floundering moments like the time when Alisha (her character) meets the President for the first time.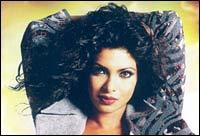 But it's the more polished actors that I have a complaint against. Arif Zakaria, who had given a mind-blowing performance in Darmiyaan, is jarring in Asambhav. Every time he says Alisha, one wonders if he's poking fun at the name.
Another one is Mukesh Rishi and the rest of his 'Afghan' comrades. Do Afghans really talk like that? And are they always angry and looking for a fight?
Naseeruddin Shah does a re-run of his Bombay Boys act, which was great in that film, but is boring in this.
The only saving grace is the great action sequences and slick look of the film. The music by Viju Shah is quite nice too.
Only if you're a die-hard Arjun Rampal fan should you watch this film. I would have included action-lovers too, but then again, Spider-Man 2 – which also released on July 23 – would be a much better bet!
CREDITS
Cast: Naseeruddin Shah, Arjun Rampal, Priyanka Chopra, Mohan Agashe, Mukesh Rishi, Arif Zakaria
Director: Rajiv Rai
Music: Viju Shah