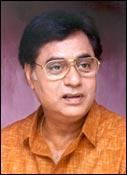 I am music personified. I can visualise music 24 hours a day," says Jagjit Singh, the man often called 'ghazal king'. With a voice cool as ice and stirring enough to break your heart, he more than lives up to the title.
When Senior Correspondent Sukanya Verma met him one rainy Wednesday afternoon, Jagjit Singh's nose was buried in a medium-sized notebook. But no, he wasn't reading poetry. He was actually engaged in calculating some financial matter while at the same time enjoying a plate of hot samosas accompanied with mint chutney.
"Have some. They are really delicious," Singh offered graciously as he sat back to discuss his latest album Parwaaz, poetry, piracy, and more. Excerpts:
'Parwaaz means flight'
"Why Parwaaz? We had to keep some name or the other, right? Jis tarah mera naam Jagjit Singh rakh diya mere baap ne [Why did my father name me Jagjit Singh?]
"The flight we had taken was from Mumbai to Singapore. From Singapore we took a musical flight to one of the world's best auditorium, Esplanade. I took my own musicians, sound engineer, visualiser, and sound recordist. The concert was about two-three hours long, which we recorded on separate tracks. We then shot a video, which we edited after reaching here. It's about 2 hours long and is available in two cassette packs, twin CD and DVD set.
"The album comprises my personal favourites. I have included the audience's choice also. Plus, there are ghazals, nazms, [my favourite] film songs, and Punjabi numbers interspersed with humour. Overall it is an interesting album."
'There is a big difference between recording a song in a studio and a live concert'
"When you sing a song in a studio, the style remains the same. If you sing it as it is, there is no andaaz [individual style]. On a live show, you get an opportunity to present each song differently. The audience reaction and sound effects make it possible. Sometimes I try and sing the same line six different ways."
'Music is therapeutic'
"Music has therapeutic value. But not stage music. Stage music is effective as long as you are listening to it. Just like a film or a drama, which makes you forget things as long as you are listening to it. But it isn't meant for treatment. You need a different brand of music for treatment. One has to 'create' that sort of music. It is a kind of meditation.
"Music teaches a singer a lot about discipline. Riyaaz [practice] infuses discipline in the musician. When we practise it [regularly], it influences other areas as well. Music also teaches you to be patient."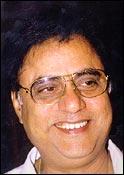 'These are emotions that bring tears in my listener's eyes'
"Success doesn't go to my head. Nor the fact that my audience is moved to tears sometimes. A couplet spells it out beautifully:
Kaun rota hai kissi aur ke gham ki khatir
Sab ko apni hi kissi baat pe rona aaya
"These are my own emotions, which are stirred though my words and singing, which bring tears in my listener's eyes."
'Poetry has to touch my soul'
"I love the poetry of all the poets that I have sung for. Everyone's got their individual spark. I keep on reading [poetry]. When I like a composition I set it to music and sing.
"Poetry has to touch my soul first, only then can it move the audience. I also have to take into account the language of the ghazal, which has to be simple."
'I don't like anybody's voice'
"In the current scenario, I don't like anybody's voice. Puraane zamaane mein acche the K L Saigal, C H Atma and Khansaheb Amir Khan [Earlier there were quite a few memorable singers like K L Saigal, C H Atma and Ustad Amir Khan]."
'The human touch is missing'
"The reason why today's generation is not able to appreciate [ghazals] is quite deep. Nowadays, if you ask a school kid to do simple arithmetic without a calculator, he probably won't be able to do it. This calculator has sneaked into the music scene as well.
"Technology in music like rhythm machines, synthesizers, and samplers has taken over. You don't have to compose. The machine does it for you. The human touch is missing. And music bears no soul without this very human touch. Today's generation of musicians doesn't want to put in any effort. They want machines to do the needful."
'After religion, piracy is the next best profession'
"Piracy is a very good profession. You don't pay tax. You don't pay excise. You don't pay royalty. What else do you want? After religion, piracy is the next best profession.
"Piracy is our character. Piracy is everywhere, only difference is its degree. It is another form of corruption. Corruption is in our blood. Corruption is everywhere.
"Piracy can be eliminated only if the buyer refuses to buy the pirated product. But that's not in his character. If he is getting an original album for Rs 40 and a pirated one for Rs 15, he will opt for the latter. The attitude is that if the singer suffers, so be it.
"All I can do is raise my voice against it."
'You cannot really experiment with music'
"How do you know what is public taste? I compose music according to my taste. If the public appreciates it, well and good.
"You cannot really experiment with music after a point. The notes are the same.  [Hums Sa re ga ma...] You can only change the sound."
'If not a singer, I would be a dhobi'
"Had I not been a singer, I would open a dhobi ki dukaan [laughs]. Seriously though I would probably set up a factory manufacturing mechanical goods."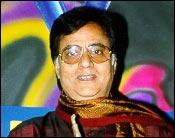 'I enjoy life'
"When I am not recording songs or attending concerts, I like to watch television or sleep in my free time.
"I also exercise or read books on race. I enjoy everything in life."