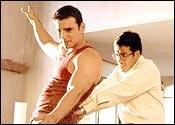 Gayab. One word. Five letters.
What does it mean? It means disappeared. Invisible.
What is it about? I have some theories.
It could be a loser's fairytale.
It could be the making of a superhero from a superzero.
It could be about psychoanalysing the behaviour of a social outcast.
Actually what it does is superficially skim past these topics.
It all begins one morning. You are led into Vishnu Prasad's (Tusshar Kapoor) indifferent, clumsy, insecure existence through cinematographer Pietro Zuercher's imaginative lens. Indifferent because no one notices him. Clumsy because he can't do anything steadily. Insecure because everyone can trick or tease him and get away with it.
In 15 minutes, director Prawaal Raman ensures he has established Vishnu's 'unwanted' status on screen and ample public sympathy off it.
Why is Vishnu Prasad so nervous? It's not his fault. It's hereditary. Scientifically speaking, he is a cross between an irritatingly dominant (mother, played by Rasika Joshi) and a painfully recessive (father, played by Raghuveer Yadav) gene. Miraculously enough, all the recessive genes fell into poor Vishnu's share.
Why does he turn invisible? Rejection. He has a crush on Mohini (Antara Mali), the girl who stays in his samne wali khidki (opposite window). Mohini apes the JLo brand of fashion, hangs around coffee shops and music shops, watches movies in multiplexes, surfs the TV, reads fashion magazines, and zooms in a Rover with her equally vain 'US returned' boyfriend Sameer (Ramman Trikha).
Vishnu accidentally winks at Mohini and predictably invokes Sameer's wrath. Unable to bear the humiliation of being insulted in front of his dream girl, Vishnu bursts into tears.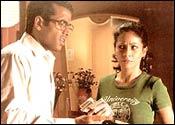 A crying Vishnu heads for some godforsaken beach only to bump into an enchanted statue. "Gayab kardo mujhe [Make me invisible]," he wails, holding the enchanted statue. Voila! Mr India is reborn. At first he hates the idea. But then he realises that turning invisible means lots of power. He doesn't give a damn about the advice Spider-Man got from his uncle: with great power comes great responsibility. He becomes super irresponsible and gets back at all those who troubled him.
Thereon, both Vishnu and the film lose focus.
When a character becomes invisible, you obviously expect tons of gags. In Gayab, no such thing happens. There's just one constant gimmick — objects flying in mid-air, which leads to a gaping bystander. Another minus is Amar Mohile's background score, which is a distraction and doesn't quite gel with the screenplay. Even during a funny scene, the background insists on being dramatic or thrilling.
While on negatives, here's more: It is hard to digest Mohini's unnatural change of heart from a vain creature to a sensible girl resolving to save the city. Also, Vishnu's excessively obsessive behaviour is vaguely justified towards the climax, making no sense.
What appeals is Tusshar Kapoor. He makes Vishnu Prasad come alive. He exudes vulnerability. He wears failure on his face, till he is endowed with superpowers, without looking conscious. He conveys the desperation and madness post-invisibility equally well.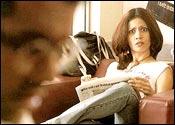 His co-star Antara Mali does not impress. Her facial expressions are always exaggerated while her dialogue delivery has a 'put-on' tone to it. She also goes overboard with her scanty wardrobe. Truth be told, most of the exposure is quite unnecessary unless the idea is to make Vishnu come across as lecherous.
Gayab is an extension of the short story 'Stop', featuring Aftab Shivdasani and Ishaa Koppikar, in Darna Mana Hai. Both were directed by Prawaal Raman. Why Stop worked and Gayab doesn't is because of the duration. The latter doesn't have enough meat to hold its viewer for two and a half hours. The former made for an interesting 30 minute episode.
All said and done, Gayab offers 15 reels of invisible entertainment.

CREDITS
Cast: Tusshar Kapoor, Antara Mali, Raghuveer Yadav, Rasika Joshi, Ramman Trikha, Govind Namdeo
Director: Prawaal Raman
Producer: Ram Gopal Varma and K Sera Sera Productions
Music: Ajay Atul and Amar Mohile