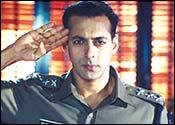 Would you like to know how people talk in the film I saw a little while back? Here's a peek:
Agli baar mardon ki baarat mein hijron ki toli mat bhejna.
Hyder Ali woh Mussalman hai jo vardi utarne par bhi apne desh ke liye shaheed ho sakta hai.
Desh ki ranbhoomi mein Arjun hamesha shastra uthata tha, uthata hai, aur uthata rahega.
Zafar ke bhadwe, woh kya hit list banayega? Hit list to hamne banayi hai. Yeh le aur dikha dena apne baap ko.
Sir, aapka sankalp ab hamara kartavya hai.
Arjun Ranawat, tune barood pe baith kar aag lagayi hai. Ab dhamaka hoga. Dhamaka!
Haramkhor! Tujhe maine doodhwale se neta kisliye banaya?
Whew! I am yet to recover from these 'heavy duty' exchanges that appear to be casual conversations in this Friday's offering, Garv: Pride & Honour.
What you need to know: Garv is about cops. Rather it's about one cop, Arjun Ranawat (Salman Khan), who will do, as the promos claim, 'whatever it takes' to get justice done. He doesn't do 'whatever'. He only shoots indiscriminately, preferably in the medulla oblongata. When he runs out of revolvers, he resorts to an axe or even a sword.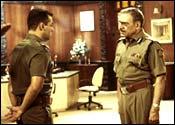 What Garv offers:
* Dishoom dishoom: Tons of guns fire and millions of bullets fly all over the screen in two hours and 45 minutes, the film's running time. Brains pop out accompanied by fluorescent red blood spewing from a junior artiste's mouth. Besides the regular action, there are elaborately staged police encounters, RDX-infested traps, extortion, threats, rape, and verbal bashing in courtrooms, though not necessarily in that order.
* Khakis: After Khakee, Ab Tak Chhappan, Police Force and Aan: Men At Work, Garv too goes through the routine of khaki-clad officers lamenting for different reasons. The cheap one cries about his meagre salary. The chicken cries how they should flee from the spot of action. The frustrated one cries about communal discrimination. The brave one cries about the corrupt politicians.
* Hindu-Muslim bhai bhai: There is simply no escaping this subject in Bollywood these days. Whether it is in your face like in Gadar: Ek Prem Katha or subtly put across as in Lakshya, filmmakers have to bring up the Muslim-Hindu angle. In Garv, it is used to emphasise the undying friendship between the scrupulously honest Muslim cop (a sincere Arbaaz Khan) and the kind-hearted Hindu cop (elder brother Salman).
* Navel watch: Oh man! The director's idea of 'relief' after every lashing action sequence or long-running acerbic conversation between the corrupt Chief Minister Kashi Trivedi (a hamming Govind Namdeo) and Arjun is a woman flaunting her navel in cabaret numbers. The navel festival loses its sizzle after a high overdose.
What Garv does not offer:
* Novelty: There is nothing exceptional about Garv in terms of story or execution. You know exactly what to expect. It's a beaten-to-death plot about a righteous cop and his Satyamev Vijayate [Truth will triumph] stance. Like most do-gooder cops, here too the hero falls in love with a bar dancer (Shilpa Shetty in a role as skimpy as her wardrobe).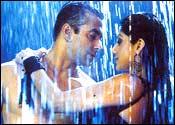 * Continuity: Salman Khan's hair acts a detector for continuity glitches. First he has black hair. Then his hair sports a dark golden brown streak. Then his hair, now much longer, wears a different shade of brown.
* Capable direction: Remember Punit Isarr as Duryodhan in B R Chopra's epic television serial Mahabharata? More importantly, do you recall those dramatic performances by the cast? Who can forget those flaring nostrils, that thundering dialogue delivery, the hysterical anger, blistering lip movement, and the works? That's the kind of acting you get to see in Garv. Everyone talks like a nutcase. Clearly, director Isarr is yet to get over the Mahabharata phase.
Though I must add that Salman Khan is decidedly restrained in comparison. The camera focuses on his eyes, and the sound editor on his crisp diction. It's definitely not his best work, but he does lend Garv a certain aura without which it would have fallen flat entirely.