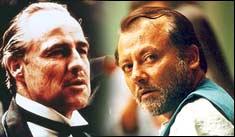 Among Marlon Brando's more memorable roles, his portrayal of Don Vito Corleone in Francis Ford Coppola's The Godfather is considered a reference textbook.
Many fine actors refer to Brando's restraint and subtle intensity while playing the the mafia supremo. But the versatile Pankaj Kapoor says he was not influenced by Brando's Corleone in conveying the complex emotions of the gangster Abbaji in Vishal Bharadwaj's Maqbool.
But Kapoor agrees he is inspired by the "work of great actors". To him the late Brando, who died on July 2, was the "greatest":
"He was a fine actor: one of the greatest actors in the world.
"It is very unfortunate that he had to die in abject poverty. [At the time of his death, Brando reportedly had debts amounting to $20 million.]
"I feel really sad that he should have died in such a state.
"As a serious student of cinema, you feel inspired by the work of great actors everywhere around the world. In that sense the work of such great actors does make one think.
"[But] I wouldn't say he [Brando] or anybody has influenced me.
"Of all his work that I have seen I consider A Streetcar Named Desire, On the Waterfront and The Godfather his best."