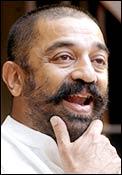 Kamal Haasan's performance as
Nayakan
would always be compared with Marlon Brando's rendering of Don Vito Corleone in
Godfather.
Here, Kamal reflects upon one of the greatest actors of the second half of the 20th century who passed away on July 2.
Marlon Brando was that turning point which happens rarely and he happened to become the man of the moment. He dared take up that position of which he was aware. He knew who he was. People mistook it for lack of humility. I take it as sheer confidence and the will to execute a way of life and style.
He was not a reluctant messiah on whom a role was thrust because he knew he had a job. He did not care about the crucifixions that would follow. He was not enamoured of his position. He simply thought it was a neurotic business and he was involved in it. He did it to the best of his knowledge. It was his way of showing his humility when he knew he was one of the very best in the world.
| | |
| --- | --- |
| | More on rediff.com! |
| | |
His peers were way, way behind him. He didn't care. He had a job and he did not wait to take them by the hand and lead them. He never thought of himself as a leader. He took no position as a star that would befit a leader. Nor was he the kind, compassionate soul who would wait and take his lesser peers along with him; he simply forged ahead. So, that man's reticence to mingle, wait, or socialise made him look like he was not humble, but he was a very busy man with a clear agenda.
I knew Brando's end was coming; he was getting obese. But the entire time I was celebrating what he had done not only to American acting, but also world acting.
He is one of my favourite actors. Of course, there is Peter Sellers. Once Peter Sellers was moved to tears when he saw a comedy by Brando, called The Teahouse of the August Moon in 1956. Sellers was a specialist himself. So anything coming from him was an encomium. People like to say that Montgomery [Clift], if he had lived a better and longer life, would have given Brando a run for his money. I don't think so. Brando was a separate entity, a monolithic structure.
What has crafted Brando might be many factors. He was lucky to get an Elia Kazan [who directed Brando in films like On The Waterfront and A Streetcar Named Desire]. Not because he was a much praised director, but because of his political stand. During the McCarthy time, he turned statement-less, and let down some of his friends. Steven Spielberg made a statement on that. But Kazan's contribution to Brando's career is enormous, almost equal to that of whatever Brando did for himself.
In Brando's films, he dared take up subjects which very few actors have done. He was a role model not only for American actors but international actors too.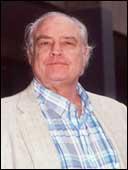 I don't consider his films or roles as textbooks because textbooks are for those who study; not those who imbibe. Brando is for those who would love to imbibe; he may not be good textbook material unless you invent certain things which he didn't intend himself.
Brando is like Michelangelo or Leonardo da Vinci; more like da Vinci because he was more versatile. Unfortunately, he was a happy, lazy actor. He didn't put in even half the hard work that Robert DeNiro put in. But it was not because he considered himself a genius.
There was a moment in his life where a lady wanted an hour of his time so that she could offer prayers to him. That was the kind of adulation that he was used to. But he didn't care for that. He writes about it so casually in his memoirs. It was, in fact, quite distressing for him. He thinks of such instances as neurotic.
He was one of the very few actors who found time to go and clean the rust of his cruise ship in an island near Tahiti. Some of the bolts and nuts were rusting due to seawater, and he found time to squeeze lime into them and wipe away the rust with oil. He was that kind of man.
But he was not a best friend to film producers.
My Brando favourites are many. As far as classical technique is concerned, he is not an exhibitionist when it comes to acting, like others. He knows his talent and underplays it. The Teahouse of the August Moon is interesting. I didn't like him in Bedtime Story. That kind of humour was not Brando's style. I don't know why he did it.
The Godfather and those few minutes he appeared in Apocalypse Now were great work. Another great work is The Freshman where he mimics himself; that only great actors who don't care for what has been achieved can do. It shows Brando was not just a fan of Brando as people would like to believe. He could be both fan and caustic critic.
No, I did not look at his performance as the godfather when I did Nayakan. It is definitely a benchmark, but I tried not to be conscious of trying to be different. Because I am, maybe not genetically but lineage-wise, the son [of Brando]. We are induced into a style of acting because people like Brando, Zubilski, Alec Guinness and Andre Waijbas brought about a new style, a new sense of underplay. I would put Brando right on top because when Hollywood was in full sway and one had to be in obedience of it, he wasn't. That shows in most of his films.
Photograph: Brenda Chase/Online USA/Getty Images