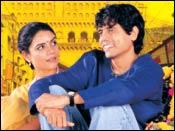 In order to capitalise on the success of his debut money-spinner Hyderabad Blues, Nagesh Kukunoor made a sequel. Hyderabad Blues 2, as far as Bollywood sequels go, is better than the others. Yet, it fails to satisfy.
Hyderabad Blues 2
 picks up the thread at a point where six years on, Varun Naidu (Kukunoor) and his wife Ashwini (Jyoti Dogra) have settled into the monotony of marriage.
Friends Seema (Elahe Hiptoola) and Sanjeev Rao (Vikram Inamdar) have two children: Riya and Rahul. Looking at the happy family picture, Ashwini also wants children. But Varun is content with his life -- work, wife and friends -- and does not want to complicate it with children.
| | |
| --- | --- |
| | More on rediff.com! |
| | |
In keeping with Ashwini's dislike for the US, Varun has moved back from the US and has set up a call center in Hyderabad. Ashwini plans to set up her own clinic.
As the societal and parental pressure to have a baby increase, Varun and Ashwini turn to their friends, Sanjeev and Seema respectively, for advice. The girls get desperate enough to take Shashi Auntie into confidence.
Meanwhile, Varun demotes his call centre's floor supervisor, Azam (Anuj Gurwara), for sexual harassment. He appoints Menaka (Tisca Chopra), a Mumbai girl who has just moved to Hyderabad, in his place. Menaka embodies the bindaas attitude and makes no bones about the fact that she moves from job to job because she falls in love with her boss.
Varun and Menaka soon bridge the boundary between boss and employee and become friends. Not long after, Menaka begins the art of seduction. Will Varun resist? How will he and Ashwini deal with it?
What works for the film is its ability to make couples empathise with the situations Varun and Ashwini are in. Most of us can identify with family elders offering unsolicited advice. Ashwini's outburst at her mother-in-law's advice, Varun's reminding his parents "that girl is your daughter-in-law" save the film from being pedestrian.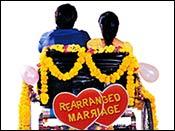 Most of the characters are carried forward from the first film, including Nagesh Kukunoor, Elahe Hiptoola, Vikram Inamdar and Varun's parents Revathi Alwar and D V Ramana. This both adds and distracts from the film. Some of the one-liners seem stale, because they have already been seen in the earlier film.
The continuity of characters also distracts the viewer because there is a lack of freshness. There is a sense of déjà vu throughout the film. Shashi Auntie and her pallu-dropping has been milked dry in the first film. Here, it gets tedious. Hyderabad Blues 2 could do with some crisp editing.
Kukunoor has taken up pertinent issues like sexual harassment in the work place and the dilemma that many couples go through: whether to have children and when. But the film has too many unanswered questions and leaves the viewer unsatisfied.
Jyoti Dogra, as Ashwini, is stiff and lacks conviction. The earlier actress (Rajshri Nair) did a better job portraying Ashwini as a strong person with fixed convictions. In working on a sequel, one gets the feeling Kukunoor has bowed to market expectations and stuck to the well-trodden path.
One does wonder if a person who has not seen the prequel will be able to relate to the film. Though Hyderabad Blues 2 is enjoyable, maybe Kukunoor should have left the film that started the crossover cinema trend alone.