She may be out of films (her last was in 2001) but Pooja Bhatt is definitely not out of the news.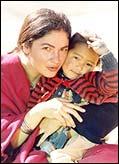 Her last production Jism, starring first-timer John Abraham and Bipasha Basu, was a runaway success. Abraham also plays the main lead in her directorial debut, Paap.
Filmed largely in Spiti, Himachal Pradesh, the film, which releases on January 30, sees another debutante, Udita Goswami.
Recently married to Munish Makhija, aka Channel [V]'s Udham Singh, Pooja still creates a stir at Mumbai's Renaissance Federation Club, Juhu. She is busy waving out to children and families, happily obliging requests for autographs when Chief Correspondent Syed Firdaus Ashraf catches up with her for a chat.
What made you turn to direction?
I have always wanted to be independent. When I became a producer, people said I would not succeed but I proved them wrong.
Actually, I had the script of Paap and was waiting for the right director. It turned out that I could not find anyone suitable enough, so I decided to try my hand at it. As a producer, I used to make sure that I arranged everything for the shoots. The only thing missing was interacting with actors. So I said, why not take another step?

But yes, producers can say a director spoilt the film. The director does not have anyone to blame but himself. He or she cannot hide behind anybody. If a film is a hit, everyone gets the credit but if it flops, only the director can be blamed.

Do you believe actors are puppets in the hands of the director?

No. The director has to remember 5,000 things. What time is the lunch break? Who should do what at what time? For me, it was like going to war in Manali, where we shot Paap. I was shooting with newcomers, but I completed it two days ahead of schedule.
I think my next film will be a cakewalk.

Why did you choose newcomers and not established stars?

They asked me the same thing for my film, Jism. They said John Abraham was a model and will not be able to act. Yet, I took him on.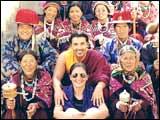 There are no bad actors. There are only bad directors who cannot make their actors act. If you work with someone new, he/she gives his/her 100 per cent. Udita is only 21. I could see her sense of achievement after she gave her shots. That gives me immense satisfaction. I will not be able to see that in an established star. If anyone says Udita has given a great performance, that is great satisfaction for me.
I am committed to giving a break to new talent. Most of the music of Paap has been composed by relative newcomers from Pakistan. It has unconventional music.
Aren't you taking risks?

I believe in taking big risks. If you encourage new people, they want to prove themselves. They give their best. This is not possible with established stars, who treat their job casually most of the time. It was my money and I decided what to do. I took my risks.

Tell us the story of Paap.

It is about a 20-year-old girl Kaaya (Udita), whose father (Mohan Agashe) brings her up in strict Buddhist philosophy. He believes that attachment and love causes pain in life. But Kaaya secretly desires what any young girl wants: love.
John Abraham has been sincere in this film. He is attracted to Kaaya but she feels that love is a sin, as she has been brought up in that philosophy. So Paap is about a clash of ideology between John and Agashe, who do not agree on how life must be led.

You premiered your film in Pakistan. How was the experience?

We were invited for the third Kara Film Festival in Karachi. It got a good response. Paap is actually a collaboration of Indians and Pakistanis. It is the music of my generation. No one appreciated Man ki lagan before and [musician] Ali was about to trash it. I asked him not to.
Eight months ago, when I roped Ali in, he had to travel from Dubai to India because there were no direct flights from Pakistan to India. I am glad that today, the relations between the two countries have improved.

What is the perspective of new generation Pakistanis towards India?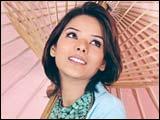 People of our generation are tired of the anti-Pakistan and anti-India stance. They want to go to Pakistan and see that country. The tendency of carrying 'hate' baggage from one generation to another has to stop. Let our generation decide whether we want to hate Pakistanis or not.
When I arrived in Pakistan, an old woman came to me and said, "Thank you, Pooja Bhatt, for coming to Pakistan."

Any plans to continue acting?

I have not given up acting. I will always act. If there is a role like Zakhm, I will act. But I am not here to compete with 18-year-old girls. I will do a film only if I get a good role. That too, of a 31-year-old. I am happy to be 31 and want to do those kinds of role or even an older role.
How is married life treating you?

Marriage [to Munish Makhija] is treating me well and I am treating marriage well too! [laughs]

Did you ever think you would want to get married so suddenly?
I have always wanted to get married. I was waiting for the right person. Nobody decides in the morning to get up and get married. After becoming a director, I became more responsible and was ready for marriage. I don't think I would have been ready to marry if I had not turned director.
I had known Munish for a month during the shooting of Paap. When he asked me to marry him, I agreed.

Was it love at first sight?
No. It was a gradual build-up of respect and affection for each other. Ultimately, your problem is your problem. You cannot expect a man to hold your hand and change your life. I did not want solutions. I wanted a companion. Marriage is about understanding and respecting each other. And I found that in my husband.
People ask me if I have changed after marriage. I haven't. If I change, there would be something wrong somewhere. He is independent and has no reason to compete with me. I am not here to compete. We are different from each other but, as they say, opposites attract!

Click here for More Interviews