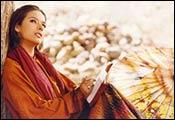 You are alone in the middle of the vast Spiti Valley.
It is hard to breathe thanks to depleting oxygen levels.
Not a single sound except the whisper of your heartbeat.
Not a soul in sight.

No, I am not trying to hypnotise you. I am taking you inside Pooja Bhatt's Paap.

Bhatt's directorial debut is set in the solitude of Spiti, Himachal Pradesh. The loneliness of this isolated place reflects the character of Kaaya (Udita Goswami).
Brought up under the watchful eye of her strict father (Dr Mohan Agashe) and the warm Lama Noburu (Denzil Smith) of the nearby Buddhist monastery, Kaaya is forbidden to dream and desire.
But Kaaya does just that. When not having leisurely baths in the river or walking naked feet in the lush fields, Kaaya secretly writes love poems waiting for that special someone.
Lama Noburu assigns Kaaya the task of bringing the six-year-old Llhamo (Madan Bhiku) from Delhi. Llhamo is no ordinary soul. Apparently he is the reincarnation of some great monk.
Kaaya and Llhamo meet police officer Shiven (John Abraham), when the little boy witnesses a murder. As the case turns complicated, Shiven decides to take them back to Spiti. He gets severely injured in the process. Kaaya and the monks nurse him back to health.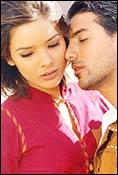 Fascinated by Shiven, Kaaya begins fantasising about him. Her fantasy results in the clash of two points of view.

Point of view # 1: Shiven is all for the Kal Ho Naa Ho motto: live every moment; he also looks down on the rebirth theory.
Point of view # 2: Kaaya's father is the desi Alfred Molina (of Chocolat). He believes abstinence is the key to a better life in future births.

Kaaya has to choose between the man she desires and the path her father has chosen for her. While Kaaya makes up her mind, I'll tell you the little pros and many cons of the film.
The entire sequence which shows Shiven drive to Spiti is unnecessarily dramatic. The classical-rock fusion number, Garaj baras plays furiously in the background. The timing couldn't have been worse. He is badly injured, yet insists on behaving like a martyr. The whole world can notice his injury except Kaaya. All this time you wonder: Why?
Paap is a love story of the earthy (read erotic) kind. The attraction between Shiven and Kaaya is purely physical. For someone with such a puritanical upbringing, Kaaya's fantasies are incredibly tantalising.
Newcomer Udita Goswami looks stunning. But her exotic looks don't have the air of a simple small town girl. She looks too groomed. Her emotive abilities are restricted to clueless gaping and looking scared. Her object of affection in Paap, John Abraham furrows his forehead, rolls his eyes upwards, snarls crazily and roams shirtless in Spiti. Great physique. Now can we have some acting, please?
Also, why does every character in Paap talk in different volume levels? John Abraham murmurs. Udita Goswami screeches. Dr Mohan Agashe shrieks.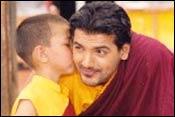 Now for the goodies: Anshuman Mahaley has shot the film beautifully. The background score by Music Mushrooms is impressive. The song Mann ki lagan is exceptionally melodious. Niranjan Iyengar's dialogues are smart, poetic and eloquent.
The young actor Madan Bhiku is a revelation. He is a complete natural. His innocent little face and big eyes convey a range of emotions.
Frankly, I had expected something more hard-hitting from this articulate actress turned filmmaker. Although Bhatt maintains an intense mood throughout, Paap isn't sinful enough.

Would you like to review this film? Here's your chance!