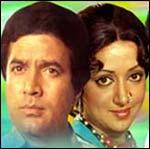 A few days ago, I was stuck in traffic on my way home. The car radio was on. The song playing was Tune o rangeele kaisa jadoo kiya from Kudrat.
It transported me onto a different plane now. I was a child again, waiting for the 6 pm (or was it 5.30 pm?) Sunday movie on Doordarshan. Set against the picturesque Himachal Pradesh, Rajesh Khanna and Hema Malini are lovers who are reborn in Kudrat. This reincarnation drama also featured Raaj Kumar, Vinod Khanna and Priya Rajvansh. It was a so-so film with fabulous songs by R D Burman.
One rarely got to see films, so any film was an entertaining experience.
| | |
| --- | --- |
| | More on rediff.com! |
| | |
Today when I think of
Kudrat
, I don't think of the film. I remember the ambience that I saw it in.
My family did not own a television set then. Most of the members in my building didn't have one either. It didn't matter if we were welcome or not, a huge group of us would make ourselves comfortable in the drawing room of the only person who owned a television set then. We would all wait anxiously for the film to start.
Watching a film was no ordinary thing. It was an 'event'. I would be dressed in my Sunday best.
When the cable television started, I remember giving my cable guy a long list of movies to play. He did oblige. Unfortunately, I never got to see the whole film. Because my next door neighbour was my tuition teacher too. She would drag me to her place if I didn't show up on time -- which coincided with the movie time. I grudge not knowing how Meena Kumari dies in Baiju Bawra. I was busy learning the Pythogoras theorem instead.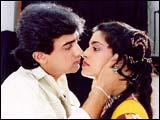 Qayamat Se Qayamat Tak, Jo Jeeta Wohi Sikander, Maine Pyaar Kiya, and Andaz Apna Apna are special because they remind me of school days. When I browse through old slam books, these names stand out like favourite teachers and best friends.
Love and infatuation were the order during college days. Hence, Kuch Kuch Hota Hai and Rangeela hold an important place in my heart.
Childhood aside, some films remind me of Bombay before it became Mumbai. If you see films like Chalti Ka Naam Gaadi, Do Jasoos, Chhoti Si Baat and Rajnigandha, they present a trendy picture of a happy, bubbly Bombay. In recent times, a pall of bitterness hangs over the city. Take Bombay and Satya. I miss that earlier Bombay.
Just so you don't think I am a nostalgic fool, I am not the only one. When I wrote about Jaane Bhi Do Yaaron in my last column, several readers wrote in about the memories it brought back for them. Here are a few:
Rahul Mehra: It revived old memories when I used to watch this movie on our VCR. A couple of other movies I remember are Chashme Buddoor and Naseeruddin Shah's Maalamaal. All these 3 movies take me back to my school days and remind me of those times. It reminds of the times when big cities like Delhi and Bombay were less crowded and we had to look towards Paris, Tokyo, London and New York for glamour.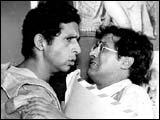 T S Narayanan: I remember seeing this movie when I was in 8th standard on Doordarshan. I have been trying to get the video or DVD for this movie since I started earning but no one seems to carry it. It is definitely a collector's edition.
Mahua: JBDY simply reminded [me] of the countless ticklish moments that I have had and will be having while watching this masterpiece.
Kerman: Your write-up on JBDY made me a little nostalgic, especially since it remains one of my top two movies, the other being Golmaal.
We enjoy movies best when the stay with us forever. When they become a personal moment. When we associate a memory -- happy or sad -- with a film. Long live movies!