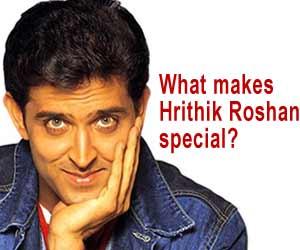 Is it his soft-spoken countenance?
Is it his aura that fills up the screen every time he makes an appearance?
Is it his clean-cut good looks?
Is it his straight-from-the-heart performance?
Or his will to prove that he is no flash in the pan?
What is it about Hrithik Roshan that makes him simply special?
With the actor's birthday on January 10,
rediff.com
would love to have you tell us what is it that makes Hrithik Roshan so special. We are all ears!