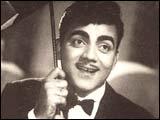 Funny! Very funny!

Most people watch films as a form of recreation. They want to be entertained. They want to unwind. For roughly two-and-half hours, they want to lead a tension-free existence.

At times like this, action is a headache, gooey romance irritates, intelligent films tax the grey cells and 'real' films depress.

Times like this, you need a comedy. You need a smile on your face.

Sadly, there are only a handful of memorable films in this genre. The ones that stand out are simply fabulous, though. You can watch these films time and again, yet the joke will always be refreshingly funny.

This is a look at some comedies that brought the house down:

Classic comic capers
These films promise to make you laugh uncontrollably till you drop.

Here are some plots: A haunted house and lots of enthusiastic youngsters aching to solve its mystery. A car with an attitude and three oddball brothers. A pretty neighbour and the tussle between her musical and not-so-musical suitor. I speak of Bhoot Bangla, Chalti Ka Naam Gaadi and Padosan respectively.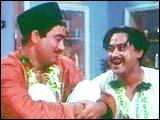 Mehmood (Bhoot Bangla, Padosan) and Kishore Kumar's (Chalti Ka Naam Gadi, Padosan) impeccable comic timing as well as their inherent ability to create fun where there is none by making quaint faces and amusing sounds
makes these films unforgettable.

These comedies were pure exercises in fun. All three movies featured a bunch of talented actors. The amazing part was the comic hero's costars were generous enough to let him take centrestage.

Cult classics
They are strictly 'one of a kind' -- each with a novel subject and treatment.

For starters, there is Pyar Kiye Jaa. Long before MTV, this Mehmood-Kishore Kumar-Shashi Kapoor starrer had a tongue-in-cheek spoof on Bollywood had the audiences in splits. Jaane Bhi Do Yaaron presented the corrupt side of life in a light vein through the eyes of two goofy individuals (Naseerudin Shah, Ravi Baswani). In Chameli Ki Shaadi, Amjad Khan taught Anil Kapoor ten ways to win Amrita Singh's heart.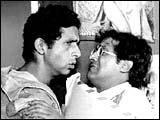 The protagonists here said the most preposterous things with such naiveté that one couldn't help but laugh. Then there is Kamal Haasan's silent movie, Pushpak. Not one spoken word. But enough to make people guffaw wholeheartedly.
 
Comedy of disguise
Tailormade for success, this brand of comedy has actors pretending to be someone else. Like Half Ticket has Kishore Kumar romping about as 'munna' (little boy) in shorts, a printed shirt, suspenders, a monkey cap and a pair of round glasses. Not to forget his adorable pouts and childish gestures.
Kamal Haasan sported high quality prosthetic makeup to portray an elderly woman in Chachi 420. Half the battle was won by the look; the other half was cakewalk for the able actors in the film, like Om Puri and Paresh Rawal.

Not all comic subjects demand a complete makeover in terms of appearance. In Hrishikesh Mukherjee's Chupke Chupke, Dharmendra is a Botany professor posing as a chaste Hindi speaking driver, while best friend Amitabh
Bachchan is an English literature professor who pretends to be Dharmendra. Confusion in its wittiest form.
Ditto Mukherjee's Golmaal. For his job's sake, Amol Palekar parades as his own twin. What follows is an unstoppable chuckle session.

More recently, David Dhawan's Coolie No 1 and Hero No 1, as the titles suggest, had Govinda disguising to rib-tickling effect. A coolie becomes a rich dude and a rich dude becomes a cook in these films. Essentially, it is Govinda's superb comic skills that made these impossible situations possible.

Feel good fun raisers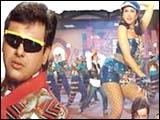 There is a timeless appeal in the humorous sensibilities of Hrishida, Basu Chatterjee and Sai Paranjape's films.

Set in Delhi, Paranjape's Chashme Buddoor was a romantic comedy with a difference. Three roommates (Farooque Shaikh, Rakesh Bedi, Ravi Baswani), one crush (Deepti Naval) and their hilarious escapades.  Her other film Katha, set in a chawl, was a contemporary adaptation of the fable, The Hare And The Tortoise. What made them special was Paranjape's minimalistic treatment and refined sense of humour.

Three old men (Ashok Kumar, Utpal Dutt, A K Hangal) discover their youth and itch to romance in Nanabhai Bhatt's Shaukeen. That it eventually turns out into a no-go is another story. You have a good laugh anyway. The usually serious Gulzar put his witty side on display in Angoor, a desi Comedy Of Errors.

Chatterjee made a series of lighthearted comedies -- Khatta Meetha, Naram Garam, Chhoti Si Baat and Baaton Baaton Mein. Set against middle-class backdrops, these films brought out the humour in the day-to-day happenings
of life.

Evidently, Hrishida had a soft corner for comedies. His Kisi Se Na Kehna and Khoobsurat revolved around close-knit families. Both had this one disciplined personality (Utpal Dutt, Dina Pathak) that eventually melts down after the heroine's (Deepti Naval, Rekha respectively) relentless attempts in achieving the same.

With these films, actors like Farooque Shaikh, Deepti Naval, Amol Palekar, Rakesh Roshan, Bindiya Goswami and Vidya Sinha won appreciation and recognition from the masses. Veterans like Ashok Kumar and Utpal Dutt got those extra feathers in their hat thanks to these feel good comedies.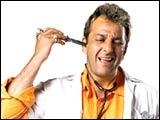 In recent times, Mahesh Bhatt's Hum Hain Rahi Pyaar Ke had Aamir Khan, Juhi Chawla and a bunch of naughty kids springing an air of fun and frolic. Also, Munnabhai MBBS's tapori gag bag had the viewer laughing for more.

You can bank on this category of films to leave behind a tingling feeling of warmth in your heart.

Star-spangled slapstick
Take a bunch of stars. Add in tons of comic situations, the kind that are bound to make you laugh, whether you like it or not.

Take Naukar Biwi Ka. Dharmendra plays a 'joru ka ghulam' to perfection. His antics and body language are simply sidesplitting.

What can I say about a rocking comedy like Andaz Apna Apna? Every second of this Aamir Khan-Salman Khan-Karisma Kapoor-Raveena Tandon-Paresh Rawal starrer is soaked with a nutty sense of humour. Every dialogue is
insanely amusing and catchy.

Only Abbas Mustan are capable of turning the edge of the seat thriller, Nick Of Time into a slapstick masala potboiler like Baadshah. This is one of the few films in which Shah Rukh Khan acted in a full-fledged comedy as a bumbling detective. He was ably supported by the ever-so-funny Johny Lever.

Paresh Rawal is the first name that comes to mind when I think of Hera Pheri. In Priyadarsan's Hindi remake of the Malayalam hit Ramji Rao Speaking, Rawal is simply awesome. Complimenting his Baburao act competently is the
musclemen duo of Akshay Kumar and Suniel Shetty. Om Puri is swell in his brief role too. Last heard, Priyadarsan was planning a sequel of Hera Pheri. Sounds good!

It would be really cool if stars did full-fledged comedies instead of playing the dying Majnu or war hero film after film.

Not just a comedy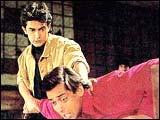 There is nothing spectacular about using comedy as one of the ingredients to add to the USP of a film. But not all of them are especially remembered for their funny sequences. Twin sibling movies like Ram Aur Shyam, Chaalbaaz, Judwaa guarantee to tickle the funny bone.

Then there are hardcore action films like the legendary Sholay. Not only is this Ramesh Sippy classic known for its intense action, it is also known for Dharmendra and AB's comic camaraderie. "Tumhara naam kya hai, Basanti?"
anybody?

Speaking of Bachchan, many of his films had a comic undertone. Like Namak Halal, Satte Pe Satta, Naseeb or Amar Akbar Anthony. These were not comedies in the truest sense, yet they boasted of some of AB's most comic scenes.

One of David Dhawan's biggest hits, Aankhen, had Govinda and Chunky Pandey do uproarious comedy in the first half and tons of dishoom-dishoom in the second.

Ram Gopal Varma's Rangeela was essentially a fantasy but Aamir Khan's Munnabhai provided streetsmart humour.

Farhan Akhtar's Dil Chahta Hai starts off in a funny vein, unfolding the adventures of three friends. But post-interval, it takes a serious and dramatic turn. Kal Ho Naa Ho was more or less formatted in the Dil Chahta Hai pattern. First they make you laugh. Then they make you cry.

Action, romance, noir all have its own charm. But nothing can match the power of a comedy. The ability to tell a joke or make a person smile is a gift. Not everyone possesses it.

No wonder most actors will tell you that the most challenging of all roles is to perform a comic one.