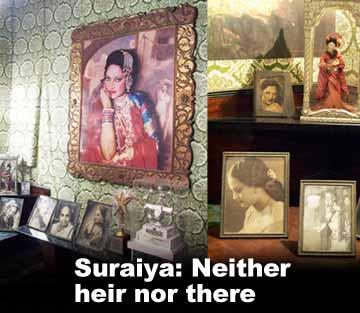 While she did not have any financial worries, without any relatives to take care of her, Bollywood legend Suraiya seemed to have been dependent on her lawyer in the last days of her life.
So much so that she nominated his daughters as the beneficiaries of some of her investments after her death.
Special: Suraiya, The Last Movie Star
But there is still the matter of the real estate she owned, which includes a building in Worli, south central Mumbai, and a bungalow in Lonavla, near Mumbai. The building in Worli has six flats, garages and outhouses. The value of the Worli and Lonavla properties has not yet been determined, but is believed to be substantial.
| | |
| --- | --- |
| | Also Read |
| | |
Despite all the property she owned, the 75-year-old actress-singer lived in a rented flat on Marine Drive in south Mumbai, her home for 71 years.
Since she did not draw up a will, the Maharashtra government sealed all her properties last week and invited claims.
Immediately after her death, Ashwin Shah and Ajit Zaveri -- owners of the south Mumbai flat valued at Rs 1.7 crores (Rs 17 million), sought to get back the property and pasted a legal notice on the apartment's door to that effect.
They were followed by Suraiya's solicitor Dimanth Thakkar and her cousin Mehfooz Ahmed, a citizen of Pakistan, who also staked a claim to the property.
Suraiya's mother Mumtaz Sheikh and Ahmed's father Zahoor were siblings. It was through Zahoor, an actor, that Suraiya met her idol Gregory Peck, when the Hollywood star visited Mumbai on his way to Sri Lanka (then Ceylon).
Though she retired in March 1963, Suraiya appeared well-off.
According to Thakkar, when her cash ran out, she sold her jewels to sustain herself. In 1988, she sold some land in Lonavla and invested the proceeds in fixed deposits, the Unit Trust of India and other mutual funds. She lived comfortably off the returns from these investments, Thakkar told rediff.com on Wednesday. 
The lawyer -- who has looked after Suraiya's interests since 1975 -- denies reports that there was a cupboard full of jewels in her Marine Drive flat. Towards the end, he added, she had few jewels left.
Among the six flats in the Worli building, four have been rented out to the army for a princely sum of Rs 1,064 per month (for the four flats).
The nameplates on the other two flats bear the name of Thakkar's younger daughter Cami and his wife, according to Mumbai's Mid-Day newspaper.
The flats, according to Thakkar, are in a state of disrepair and Suraiya expressed disinterest in carrying out any repairs. Instead, she agreed to rent them out to Thakkar and his daughter for Rs 1,000 per month, provided they carried out the repairs.
This agreement was signed on January 1, 2004. By the time she died 30 days later, Suraiya had not collected a single month's rent from her new tenants.
Suraiya also named Thakkar's elder daughter Ami as the nominee in some papers related to her investments. Thakkar showed one such document to rediff.com in which the investor's name was given as S Sheikh and the nominee's as Ami Dimanth Thakkar.
"After 1975 I guided her at every stage," Thakkar earlier told rediff.com, "Even her servants and her electricity bills were paid through my office. She would only pay the dhobhi and newspaper man. She would call me her confidante."
Photograph: Jewella C Miranda
Image: Dominic Xavier