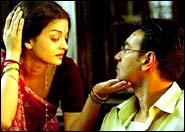 It has been raining ceaselessly all day. The atmosphere wears a sultry, albeit worn, look, in hues of blue and grey. A roomful of antique furniture carelessly lying around, the shadowy aura hiding quite a few secrets. A single candle spreads its warmth around the two inhabitants of its room.
The crowded nature of their surroundings reflects the messy state of affairs. There is an occasional slip for wallowing in regret and 'only ifs,' but, for the most part of this meeting, the two players indulge in a game of 'Everybody says I am fine.'
A resident of Bhagalpur, Manoj (Ajay Devgan) is out of work owing to a lock-out in the jute mill he worked for.
Low on luck and resources, he comes to Kolkata and embarrassedly approaches a few of his former college mates to lend him some money to start a business. Now that he is in the City of Joy, Manoj is keen on seeing his village sweetheart Neeru (Aishwarya Rai) as well. Their love story ended on an unrequited note, when Neeru agreed to bow down to social pressures and marry a wealthy bloke as opposed to the jobless Manoj.
| | |
| --- | --- |
| | More on rediff.com ! |
| | |
Cut to present day rainy Kolkata. Wearing a borrowed raincoat, Manoj arrives to meet Neeru.

 

The carefree days of youth are long over. The harshness of day-to-day reality and responsibility have besieged into the duo's disposition.

 

The once seductively playful Neeru has lost her will to charm. There is an obvious disinterest in the way she carries herself. She is least bothered about her awkwardly worn sari or her untidy mane. Her voice sounds weighed down for untold reasons. Even her unkempt appearance, however, makes for an enigmatic picture.

 

Uncomfortable, inquisitive, withdrawn and puzzled at different times of the conversation, Manoj drawls back and forth in his chair, restlessly smoking cigarettes, as if he is really making an effort to believe Neeru's tall proclamations.

 

And then…the raincoat does its bit. The truth comes out. And so do their intense feelings for each other.

 

Told poetically and uncompromisingly by author and director Rituparno Ghosh, Raincoat is a simple tale of two beautiful gestures in one afternoon. Inspired from O Henry's classic short story The Gift of Magi and Radha-Krishna's unrequited romance, Raincoat relies heavily on the simmering chemistry of Manoj and Neeru and the spiritual compositions of Debojyoti Mishra that linger in the background. Indranil Ghosh's cluttered art design and Aveek Mukherjee's muted photography contribute to the essence of Raincoat's narrative.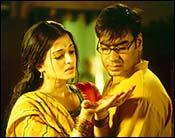 For someone heralded as the most beautiful woman in the world, Aishwarya Rai looks terrifyingly depressing in the film. Her Neeru looks cynical to the point of suicide.  And that's a compliment. Her body language is a strange mix of a passive housewife and a passionate girlfriend. Though the effort to sound rustic shows, the restraint in her dialogue delivery and performance is commendable.
Hesitation, desperation, humiliation -- Ajay Devgan conveys them eloquently. His Manoj is no cool dude, but just another lower middle-class guy in misery, with whom none would like to switch place. He particularly stands out in the scenes where he cries in the bathroom, or begs Neeru not to marry someone else.
Some films attempt to showcase a series of wonderful moments and tend to go overboard. Raincoat captures just one poignant moment and tells it as simply it can, leaving you with a 'wow!'