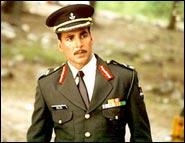 Yet another film on Indo-Pak relationships.
Anil Sharma has to be awarded for consistency -- the director has stuck to the same idea since Gadar - Ek Prem Katha and continues to attempt no topic other then terrorism between the two nations. Strangely, after Pak-bashing throughout Ab Tumhare Hawale Watan Saathiyo, it ends on a positive note.
During the film, you aren't sure what any of the characters actually thinks about peace -  Amitabh talks about his son Bobby proving himself in the war. Then Anil's brother Kapil Sharma proudly says he will kill at least 25 people on the battlefield -- the dialogues create the feeling of desperation for war.
Until the end, when Amitabh starts mouthing clichés about always wanting peace! The film is misguided and unclear about its message, and seems to be disguised anti-Pak sentiment packaged under the mask of a film promoting brotherhood.
| | |
| --- | --- |
| | More on rediff.com ! |
| | |
The film has so many references to sensitive situations like the Akshardham attack and the attack on the Indian Parliament, that it seems forced -- is this an attempt at realism or at provoking mass memories? It seems more communal than patriotic.

It is a muddle of several missions -- one conveniently for each hero in the film - and enough to thoroughly confuse the viewer by the time he sits through to the end. It starts off well, loses its pace in the middle, and the climax does not call for applause.

Ab Tumhare Hawale Watan Saathiyo begins with Vikramjit Singh (Bobby Deol), laying his life down for the nation, and his son Kunal (again, Bobby Deol) being forced to join the army by his grandfather (Amitabh Bachchan). He falls in love with Shweta (Divya Khosla), already happily married to Rajeev (Akshay Kumar), also an army man.

There is also Sakshi (Sandhali Sharma), an army doctor in love with Kunal who never tells him. Anyway, the story weakly builds up to the final mission -- the Amarnath Yatra which the 'bad guys' plan to sabotage with RDX. Of course, it goes completely without saying that our heroes valiantly save everything in the end, just that this time they are aided by the Pakistanis as well.

The film's music is average. Divya Khosla doesn't have much to so and acts well in a few sequences. Akshay gets the applause, not for his acting but for his well-written shayari. Bobby is good. Amitabh Bachchan is seen far too often in these officer roles and has nothing at all new to offer in this uniformed outing. He has started looking and acting very monotonous.