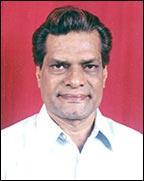 There are actors and there are stars, but there are only a rare few with the recall-value of immortal characters. After his Lagaan character regaled audiences worldwide, Rajesh Vivek now returns to Ashutosh Gowariker's cinematic world in Swades. Here are some excerpts from an interview with Patcy N:
"This is actually my third project with Ashutosh Gowarikar – the first was Lagaan and the second was a Coke advertisement with me and Aamir Khan. Aamir and Ashutosh both agreed I should do the role of 'Guran', and Ashutosh approached me. I heard about the character and I agreed, but asked him why he selected me. He said he'd seen my performances in Junoon, Shashi Kapoor's first film, where I played Aullia, Shekhar Kapoor's Joshilay where I was Jogi Thakur, and Bandit Queen with the character of Baba Mushkim, and felt that this character fitted me perfectly. And for Swades, I had to take a screen test.
Ashutosh gets all the credit for his films; it is well deserved because he knows to extract a performance from his actors.
I have acted with Shah Rukh before in Maya Memsaab, where I played a Pathan. He knows me from my National School of Drama days, and he has a very sharp memory. He is a very talented person and therefore he is on the top. My experience with Shah Rukh has always been very nice. He respects me because I am senior to him and he calls me 'Baba'.
| | |
| --- | --- |
| | More on rediff.com! |
| | |
We used to reach the sets by 6-7 in the morning and start make-up, and when I used to get dressed, especially in the Ravan's and wrestler's costumes and start acting, all the villagers from Wai would laugh and I would warm up! We enjoyed it a lot. The villagers were very nice and would appreciate my performance. All of them are very affable, and they respected us a lot and were very cooperative. The village we shot in was a 'model' village.

My first shot in Swades was actually my entry, where Shah Rukh comes to the village in the caravan and I lost my balance – Instinctively I just said 'Kamal hai!' and Ashutosh hadn't given me any dialogue for this scene, but he liked this and decided not to change it. He likes spontaneity, and actually told me that if you feel you can say something somewhere or react in some scene, you should do it!

One of these occasions was when Shah Rukh comes to the post office to make a long distance call to America and he uses the word Internet. So my character asks him was the Internet is, and he tries to explain the concept of email. At this point, I just took a famous Kabir couplet and changed it a bit, and said – Uh male guru gyan karawat aur email sansar janawat. And Ashutosh kept that in the film!

I couldn't attend the film's premiere as I was out shooting, but I saw Swades yesterday. I liked it very much. I thought he went into reverse gear and took us back to our Indian roots, aesthetics and culture. He speaks about the smell of our soil, and about not forgetting about our country. He is emphasising the duty towards our own nation. I personally feel Ashutosh is carrying forth the traditions of filmmakers like Satyajit Ray and Bimal Roy.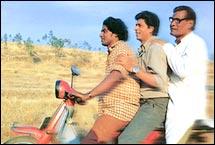 My most emotional scene was naturally the one where Shah Rukh is leaving the village, and I tell him that one day every child in this village will email you. And my toughest scene was when I had to actually wrestle, do kushti, in the last scene, in the mud. I was afraid of a skin allergy, but then I saw Shah Rukh without his clothes in the mud, telling me nothing will happen and calling me in. Ashutosh made me comfortable. I didn't get any allergic reaction, but I took a precautionary Dettol bath!
Both Lagaan and Swades are good in their own right, you can't compare the two issues: Lagaan is set pre-Independence, and was more to do with cricket and boosted cricket as a sport, especially Indian cricketers a lot, but Swades is a very simple subject, basically for the progress of the nation. They are different films and against the Bollywood trends of nudity and item bombs.
I'm a theatre artiste from the National School of Drama. There, Shyam Benegal saw my performance in a play called Begum Ka Takiya. He offered me a role in Junoon, produced by Shashi Kapoor. My second film was Richard Attenborough's Gandhi, where I did the small role of Dr. Rajendra Prasad. I also did a Shatrughan Sinha film called Kalka, all while I was still at NSD. When I got the offer for Joshilay, I had to go to Ladakh for four months of shooting, but I wasn't permitted, and so I quit the NSD. Then I did a lot of serials, including Amir Khusro and Mahabharat.
I did a lot of films with long hair and beard, and therefore I grew one instead of using a wig, but finally removed it for one scene in Bandit Queen. I thought maybe I'll get down to earth roles after doing a clean-shaven role, but even after that I'd get all abnormal roles: sadhu muni, babas, dacoits – some positive, some negative. I'm not doing any serials right now as they all have those tantrik and baba style roles. So I became very choosy, but since I did the Coke advertisement, I started getting some clean-shaven roles. If I get a very good role that requires the long hair and beard, I will do it provided I'm paid what I demand! I'll increase my rates for a role like this and charge normally for clean-shaven roles!
I've gotten a few roles now in films like Ab Tumhare Hawale Watan Saathiyo, Vaada, and Bubli Aur Bunty."