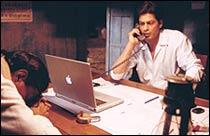 Ashutosh Gowariker's Swades f
ailed to wow audiences in North America, grossing a mediocre $425,000 in three days despite showing on 74 screens.
Though it was number 18 on the box-office chart topped by the $30 million grossing Lemony Snicket's A Series Of Unfortunate Events, the new Shah Rukh Khan starrer did not do inspiring business. Its weekend gross was about 60 percent that of Veer-Zaara which is still showing on 20 screens. The mega hit directed by Yash Chopra, which also starred Shah Rukh, had opened on 83 screens in North America six weeks ago.

But the New York distributor for Swades is convinced the film has strong legs.

"We have a very touching and important film and we hope to see it play well through the holiday weeks," said Sridhar Srikula of UTV distributors.


| | |
| --- | --- |
| | More on rediff.com! |
| | |
But many fans -- even those who admired Shah Rukh's acting, AR Rahman's music, the way the songs were pictured and the film's message -- felt it was too long-winded and didactic.

Many felt the story of a NASA scientist who wrestles with the idea of going back to India and finally decides to do so was heartfelt. But they faulted its execution.

Nearly 20 minutes of the movie, including the haunting song Neendiyan, has been chopped off. Even then, the audiences got restive -- especially in the scene in which Shah Rukh engages the village elders in a dialogue about caste conflicts.

"Cut down the dialogue and bring back the song," said one elderly person at a New Jersey theatre. "Too much talk is no good."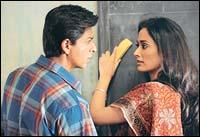 Several people found the NASA scenes unfocussed. "What exactly was Shah Rukh doing there? I found all the scientific stuff boring," said a teenager, adding that the film hardly showed what kind of life Shah Rukh led in America.

Several exhibitors feel that the movie would have opened to far disappointing numbers if Shah Rukh was not in the lead.

Some viewers felt Gayatri Joshi was not really an asset to the film since she could not whip up enough emotions. Several others in New York thought they had seen her somewhere in the city but could not figure out where.
They would have known the next day had they watched the V Desi TV show, which dug up pictures of Gayatri inviting viewers to watch her program. Just about three years ago, she had hosted part of the show.

If Swades does not improve its business in the next two weeks and follows the usual attrition rate for Hindi movies in North America, it may end up with a disappointing but far from disastrous $1 million.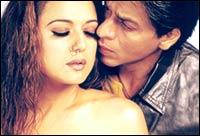 Though the box-office numbers from the United Kingdom are still awaited, they usually mirror those in America. In a few cases -- as with Veer-Zaara -- they can be about 15 percent higher.

Meanwhile, Veer-Zaara slipped from the 29th position to 49th in its sixth week in North America, where it has grossed about $2.82. It is unlikely, given its $34,000 weekend gross, that it will reach the $3 million benchmark.

In Britain, the film slipped out of the top 10 after five weeks. It grossed about $3.7 million there. The projected $6.8 million combined gross for the film on both sides of the Atlantic is astounding. And yet Kabhi Kushi Kabhie Gham, with its $7 million gross, is likely to retain the crown.