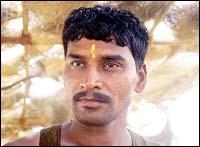 The name Dayashankar Pandey may not instantly ring a bell to most audiences, but mention the unforgettable Goli from Lagaan and a smile flits unfailingly to the lips.
His inimitable bowling action aside, Dayashankar is a mainstay in Ashutosh Gowariker's films. In this interview with Patcy N, he speaks about Swades:
I have been in all of Ashutosh's films right from Pehla Nasha, Baazi, Lagaan and now, Swades. During the editing, all my scenes from Pehla Nasha got chopped!
I know him since 1989, since his Mithibai College days. He was a well known actor even then, doing a television serial called Kachchi Dhoop with Bhagyashree, directed by Amol Palekar. He was a star for us, and my senior. But we theatre fellows would always hang out together.
If you look at me, I don't suit the Goli character in Lagaan. I had auditioned for Kachra's role, thinking it fit my look and personality better. But it didn't work out. I was cast at the last moment, just four days before shooting started, because Ashutosh wants to keep me in all his projects!
| | |
| --- | --- |
| | Don't Miss! |
| | |
He offered me the character in
Swades
when
Lagaan
was selected for the Oscars. He also took Rajesh Dwivedi from
Lagaan
, who played Guran.
My character in Swades is called Mela Ram. I belong to the scheduled castes. I love to cook, and my dream is to be a famous cook and own a restaurant. Ironically, I belong to a caste from whose hands people won't even drink water!
This role is tough. If you overact, it won't look good. He has cast me as a comedian in a sympathetic role. I was asked to grow my hair a year in advance. I like to change my look for movies.
Ashutosh is a brilliant director, and a friend close enough to be like a brother to me. He gives 100 percent to his script, 150 percent to directing and shooting, and 200 percent to post-production. He works as per his responsibility, not to show off that he is hardworking. He is very cool on the sets and has a good sense of humour. He is very professional.
For me, Swades is a much better film than Lagaan, because I liked the subject. I am not an intellectual, but it is very close to my heart. You have to watch the film to feel that. When you see these kinds of movies and then are alone, you tend to think about the subject and scenes from the film.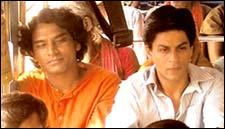 My first scene was when I introduce myself to Shah Rukh Khan, when he comes to the village. I have never worked with Shah Rukh. I've worked with Aamir and our 'tuning' is set. I was very tense because Shah Rukh is a big star.
Before the shooting, Ashutosh introduced us and he is such a nice human being! I was very comfortable working with him. If Shah Rukh is a star, it is because of his talent. I even told him, 'Before meeting you, the magazines had given me a different image about you, I felt you were arrogant.' But he isn't arrogant at all.
When shooting on the bike, we weren't on smooth roads but in the fields. It wasn't comfortable riding there. Shah Rukh had a back problem and there were three of us on the bike. Therefore, I was tense throughout that we might fall and he'd hurt himself.
The bike gave jerks all the time. Shah Rukh told me not to worry. During the rehearsals, it was just me and Shah Rukh. The bike even slipped once, but he didn't say anything. I just didn't want any tragic incidents while shooting. But it worked fine. If you look at the poster, he is not nervous at all, and is smiling in the shot.
Gayatri Joshi has never acted before, but she is the surprise package from the movie. If you see her, you'll be reminded of Nutanji. She's different from the heroines of today.
We shot most of the film in Wai, Maharashtra. We had a lot of fun, staying there for three months. All the unit members stayed in one hotel. Shah Rukh would leave on Saturday and return early Monday morning or when required. It is just a four or five hour drive from Mumbai. On the days we weren't shooting, we'd party. Basically, all the hidden talents would come out while partying!
My favourite scene in the movie is just before the climax, when Shah Rukh is leaving the village to go to NASA. That is a very emotional and touching scene.
The song Yeh tara woh tara is my favourite. We enjoyed shooting that. I wasn't dancing but Shah Rukh insisted. By the end of the shooting, in the last song, I danced too!
On the last day of shooting at Wai, we were very emotional. We had gotten very attached. The actual last day of Swades' shooting was in NASA, where only Shah Rukh went. He told us that once everything was over, we'd sit down, watch the film together and remember our days of shooting.
Rarely does a producer of director cast an actor with a face like mine. Only Ashutosh and Prakash Jha cast me in their films. I always get the villager kind of roles (laughs), maybe they see India in my face!
I tried for television serials, but didn't get any roles. Producers and directors say yes, but the channels say I look very 'downmarket.' Actually, even if they cast an actor for a servant's role, he should still be good looking! I've gotten so many jolts in this industry, I should actually open a paan-beedi shop and settle down!
Still, I have managed to get a few films. I am in Karan Johar's production, Kaal (Shah Rukh, Ajay Devgan, John Abraham); Prakash Jha's Apaharan Ajay Devgan, Nana Patekar); Roger Christian's crossover film American Daylight (Koel Purie, Nick Moran, Vijay Raaz); and Ashutosh's Lagaan assistant Sanjay Dayma's Ramji Londonwale(Madhavan).
Want to see Swades? Check out http://tickets.rediff.com/