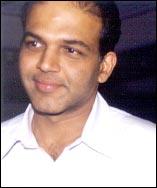 Three long years after the skillfully-crafted cricket saga, Lagaan, Ashutosh Gowariker is back at the crease with Swades. This time it is the turn of yet another Khan, Shah Rukh instead of Aamir, to collaborate with the director and make a winning inning.

Lagaan earned millions, entertained audiences world over and was even nominated for an Oscar. Twenty years from now, it may earn the coveted title of a classic. Can Swades match up?

Dinesh Raheja talks to Gowariker, who is now a few pounds heavier, a lot more self-assured but still as excited as a newcomer.

How have the trailers of Swades being received?

I received extreme reactions. By and large, the lay man has liked them. I wanted to begin with a teaser bereft of music because I wanted to get the theme of the film across to the audience before I talked about the music.
The reaction from the industry has been different. They feel that Shah Rukh Khan sabse bada star hain aur usko poster par itna chhota bana diya hain. I wasn't even thinking about it in that way.
The first promo has no background music -- it showed Shah Rukh Khan making the transition from an aircraft to a train, boat, bus and then, a mobike. Later, we aired the song promos and the Alka Yagnik-Udit Narayan duet Dekho na has been much appreciated. But my favourites are Yeh tara woh tara and Yeh jo desh hai tera.


| | |
| --- | --- |
| | More on rediff.com! |
| | |
So what is this all-important theme that you have wished to convey?
I believe individuals can make a difference. The film's protagonist Mohan Bhargava (Shah Rukh Khan) has lived in the US for 12 years. When he revisits India, his journey reaches him to a (fictional) village, Charanpur. It is governed by the panchayat, which attempts to solve the problems of the village but is orthodox in its approach.
Mohan is confronted with several social ailments: caste system, illiteracy, child labour. He decides to be proactive and better the lives of the villagers.

Several people are under the impression that Swades is a stark film. Is that true?
No, Swades has romance, humour, entertainment and songs.

So how would you describe Swades?
A down-to-earth film. Shah Rukh Khan is the star draw, but there is an element of curiosity about what he will do in this film.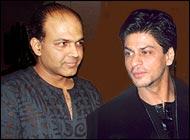 Did you ask Shah Rukh Khan to unlearn anything for the film?
It's not as simple as kya karna hain, kya nahin karna hain. The approach was to adhere closely to the script and let Mohan Bhargav emerge. And it is to Shah Rukh's credit that in the final product, Mohan Bhargav reigns supreme over Shah Rukh.

Tell us more about Mohan Bhargav.
He is someone like you and me, born and brought up in India -- in Delhi, to be precise.
He gets the opportunity to study in the US and finds a job at a scientific organisation like NASA. While staying abroad, he has an overview of India's problems. But when he visits his nanny in a village, he sees social issues from up close and is deeply affected. He wants to do something for the villagers.

Has the success of Lagaan put you in a vantage position when it comes to negotiating with people and getting your point of view across?
No, I take on people who have the guts to tell me if I am in the wrong. You cannot afford to become pompous with success. Go ahead and follow your instinct, but take inputs from the crew nonetheless.

Can we ever expect an Amar Akbar Anthony from Ashutosh?
I would love to do a film like that, but it's a tough script. I also find Mughal-e-Azam appealing. Everybody who has read history knows about Akbar. But to build a story around the unknown Anarkali and spin an unforgettable romance, is amazing!

After the success of Lagaan, weren't you tempted to make a sequel in the same sports/period film genre?
No. For me, the script is sacrosanct.

Why did you choose newcomer Gayatri Joshi for the heroine's role?
She had grace, dignity and could dance. Besides, she has a lovely voice.

And while you changed your actors, you thought it fit to repeat the Javed Akhtar-A R Rahman lyricist-music director team for Swades?
If I have my way, I will take them in my future films too.


Did UTV, the co-producers, have any say in the creative inputs?
There was no contract to the effect that they would give creative inputs. But Ronnie Screwwala of UTV and I got along famously with each other. Ronnie has been extremely supportive, understanding and very good on his marketing front.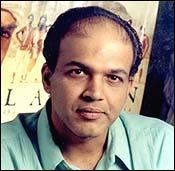 Considering the fact that you had a double responsibility as producer-director in Swades, unlike Lagaan, did you feel weighed down?
No. Once I decide that we need 10,000 people for a scene and have included it in the production cost, I don't compromise. Of course, if due to an act of God, I lose two days of shooting, then I may compromise to compensate for the lost time.

How would a film like Swades appeal to the NRI segment, which has emerged as an important section of the audience today?
I don't believe in the so-called NRI cinema because the term has lost its meaning. You can't make a different film for the overseas market. Swades will appeal to an Indian, wherever he is.

Did the Oscar nomination hang like the sword of Damocles over your head while making this film?
No. I was keen to make a film that had a message.

And what is the message?
I would like to emphasise that Swades is not an anti brain-drain film. One is not advocating that you have to necessarily come back to the country to repay what it has done for you. But give your country a thought.
Quite a few of the leaders of our freedom movement had studied at Oxford or Cambridge. But they came back and put their education to good use for the freedom movement. So basically, it is about application -- whether you return to India or don't is secondary. It's each to his/her own. But an individual can make a difference.
Want to see Swades? Check this out!