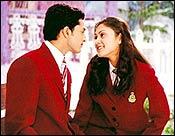 Professor Arindam Chaudhari's directorial debut Rok Sako Toh Rok Lo put me in a dilemma. He is a management guru, economist, and dean at the Indian Institute for Planning and Management, while I'm just starting my journalistic career.
Unfortunately, I have to say filmmaking might not exactly be a prominent feather in his cap.
Rok Sako… seems to be a complete rip-off of the old Aamir Khan film, Joh Jeeta Wohi Sikander. The least the director could have done was rope in equally competent actors. At least, that may have worked.
If you see Lagaan carefully, it is a remake of B R Chopra's 1957 classic Naya Daur. But it took an actor like Aamir to fill Dilip Kumar's shoes. And here, we have Yash Pandit trying to replace Aamir!  
| | |
| --- | --- |
| | More on rediff.com! |
| | |
Forget the acting, professor, look at your script. The comedy is forced. The only time I heard people laughing was when Sunny Deol rescues Manjari. He lifts a goon with one hand while bashing another and hurling him on to a van, which turns over! Show us something convincing: just calling Sunny Phantom aka Kabir is not enough.
Besides, it's surprising to hear dialogues like this in a professor's film: Valley School mein padne se agar hamare percentages kam bhi huey toh koi problem nahin hain, kyonki bade school mein padne se koi percentage nahin poochhta [a low percentage does not matter in Valley School because no one asks for percentages if you are studying in a reputed school]. 
Such dialogues create a disturbing and negative mindset, and coming from someone like you professor, it is disappointing.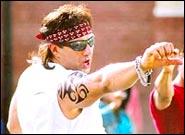 Sunny Deol plays a loosely sketched character, admired by youngsters because of his Harley Davidson and cool sunglasses. The corporate production house has given actors in the film 'interesting' designations, which, just like in the real world, effectively mean nothing.
Sunny's is called an 'Inspirational Appearance.' Interesting choice of words for a character thrown out of school in his youth for slapping the vice-principal.
Deepti Bhatnagar's is called a 'Sweet Appearance,' but let's not even start talking about that!
The film's story revolves around the predictable. Two groups in two class-separated schools, who keep fighting. The 'good' group are fans of biker Sunny who, as described, inspires them in some hard-to-understand manner. The film ends with a marathon between both schools.
Manjari has performed well, but Yash looks nervous in some scenes. The movie is full of forgettable songs.
I would recommend renting a Jo Jeeta Wohi Sikander DVD instead of spending money to watch this film.