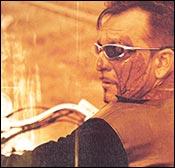 D
hishkyaon
! A bullet enters Anil Kapoor's leather jacketed sleeve. Sanjay Dutt flashes his golden tooth smile, puts a gun on Kapoor's head and demands a flashback.
And thus begins the journey.
Here, we encounter seven oddball characters through which this wishy-washy plot unfolds.
Billa (Sanjay Dutt)
: Wry witted and irritatingly verbose, Billa is a ruthless money-hungry drug lord. His fashion statement is crinkled brocade shirts, suede overcoats, a studded choker, chunky rings, a spiky haircut and a stylish beard. Oh yes, he is completely besotted with Hindi films and doesn't miss any opportunity to comically draw analogies from
Sholay, Zanjeer
or
Ram Lakhan
.
The performance: He has played a 'bhai' in so many different films, that talking dirty comes naturally to him. In Musafir, he doesn't have too much to do. It's an over extended special appearance at best. Every time, however, the movie starts slipping, he comes to fill in the glamour quotient. Like his Billa says, "Kya entry maara hai, Boss!"
Lucky (Anil Kapoor)
: He's got disheveled hair, a shabby stubble, sports leather jackets and has a tendency to 'get lucky' with skimpily clad dusky babes. But just when he thinks he is on to his last con job, he ends up becoming a target of one. And now Billa is out to cut his life short unless he pays back.
The performance: This is his most vestigial performance till date. Yes, he is looking younger but that's about it. It is hard to believe that an actor of his caliber doesn't have a single strong scene in this crime thriller.
Lara (Koena Mitra)
: Her idea of seduction is washing the car in a purple dress. Obviously she got her inspiration from Liv Tyler in
One Night At McCool's
. Thanks to her deceitful ways, Lucky has a hard time trusting the female fraternity.
The performance: Looking hot is no feat for a sex symbol, right?
Tiger (Aditya Panscholi)
: He is a chocolate-eating cop on the trail of drug traffickers. But there is more to him than meets the eye or so we suspect.
The performance: His new bald, goatee beard looks goes well with his menacing role.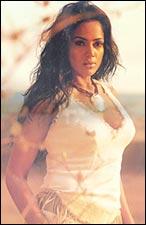 Sam (Sameera Reddy): If you happen to be in Goa, you will find Sam dancing all over the place – bars, beachside, you name it. Lucky bails her out when her car breaks down. His good Samaritan act is reciprocated with a passionate lip-lock. But Sam, with a butterfly tattoo on her right arm and a disturbing past, comes with plenty of emotional baggage.
The performance: Clearly, Sameera has the meatiest role of them all. She doesn't look uncomfortable doing intimate scenes with Mahesh Manjrekar or baring her skin almost throughout the film. She is not too bad in the emotional scenes either. Though she could try being a little less aggressive in her dancing.
Luka (Mahesh Manjrekar)
: This lousy looking version of Hulk Hogan is a cheap-talking pervert who suspects his sexy wife, Sam, of being a loose character. He makes a deal with Lucky to kill Sam in exchange of tons of money.
The performance: A convincing portrayal of a cheesy creature.
Whacko Jacko (Shakti Kapoor)
: A drug dealer who is a part time shady tattoo artiste, bearing information about the whereabouts of every Tom, Dick and Lucky.
The performance: Regular!
Flashback finito!
Now what? Does Billa get back his money? Does Lucky take Sam's life? Who is Tiger? What's Sam all about? Why does Luka want to kill her?
These questions get unsatisfactory replies during the course of the film.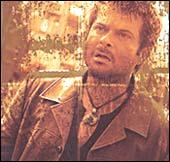 Musafir
has three primary flaws:
The attitude: Every protagonist walks like a Levis ad commercial and talks like a Quentin Tarantino movie. It works on a narcissistic level. Lending spunk to characters is fine, but the film goes overboard in making every move and gesture look like a statement, and in the process loses its essence as a story.
The script: For starters, the language is unimaginably crass. Secondly, the story has a tendency to beat around the bush. Instead of making a point in a straightforwardly manner, there is unnecessary delay. In one scene, a character in the film is required to talk about being raped. This character gives a step-by-step 10-minute description of what lead to that episode as if she is deriving some pleasure out of it. The viewer certainly wasn't. The climax, or shall we call it the anti-climax, leaves you non-pulsed. What the heck! You made me sit all through for nothing.
The background score: Trust me, it's very loud. I am not kidding when I say: carry cotton plugs along. I regretted not doing so. The background (ditto for the soundtrack) is actually pretty rocking but it overpowers the going-ons of the screen by creating a jarring effect.
Hollywood influences Sanjay Gupta's Musafir in two ways. There is an obvious inspiration from U-Turn and hints of Killing Me Softly and Confidence. The digitally enhanced camerawork (P S Vinod) is impeccable and lends a 'phoren' film feel.
Mindless, corny and disappointing, Musafir is one journey you don't want to be a passenger of.