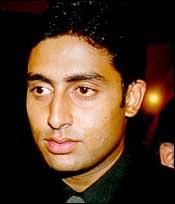 F
irst, it was Rani Mukerji who opted out of Mira Nair's
The Namesake
. Now, it is Abhishek Bachchan's turn.
While both actors have cited the usual date problems, their real reasons for not doing the film are clear.
Rani declined the project because her dates apparently clashed with Karan Johar's next directorial venture. Truth is she was required to play Abhishek's mother in The Namesake.
With the two being cast as lovers in Shaad Ali's Bunty Aur Babli, Rani knew The Namesake was not quite the thing to do.
As for Abhishek, he was in two minds from the beginning. With her previous film Vanity Fair opening to lukewarm response and his dates finally tilting the balance against Nair's film, Abhishek quit.
Konkona Sensharma has replaced Rani, but Nair is yet to find a lead actor for her film.