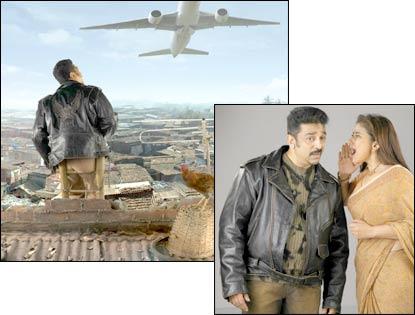 Even today the tragicomic silent film, Pushpak, evokes laughter just as it tugs at heartstrings. The men behind the classic were Kamal Haasan and director Singeetham Srinivasa Rao.
The 72-year-old Rao completes 50 years of making films this year, but is not ready to call it quits yet.
He is busy shooting Mumbai Express, a bilingual production in Tamil and Hindi, for Haasan's Raj Kamal Productions, in Mumbai.
The film also stars Manisha Koirala, who has earlier acted with Haasan in Shankar's Indian, and Suresh Krishna's Abhay.
Insiders say Mumbai Express is rib tickling and fast paced. Haasan has written the story, screenplay and dialogues. Sourabh Shukla, who also plays a major role in the Hindi version, has written the Hindi dialogues.
The rest of the cast in the Hindi version are Om Puri, Vijay Raaz, Sarat Saxena and Haasan's favourite actor, Mahesh Manjrekar. The Tamil version has Raj Kamal regulars like Nasser, Ramesh Arvind and Kovai Sarala.
Some memorable comedies from Haasan's production house have been Michael Madana Kama Rajan, Makaleer Matrum and Apoorva Sahodarangal. Though Kamal's last two bilinguals, Hey! Ram and Abhay were not commercially successful, his comedy Chachi 420 was a hit.
What may be worrying Kamal is the threat by some outfits who have warned Tamil filmmakers of dire consequences if they name their film in English. Haasan has had a name problem earlier, and was forced to change the title of his last film from Sandiyar to Virumaandi after the Puthiya Thamizhagam threatened him. Once again, other chauvinistic outfits have started making noises about the title Mumbai Express.
Perhaps they are not aware that one of the trains running from Mumbai to Chennai is still called Mumbai Express!
Text: Shobha Warrier