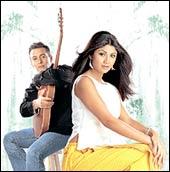 T
hat
Phir Milenge
is the story of a person infected with AIDS is well known.
That Hindi films are often inspired by Hollywood is also well known.
So shall we expect an Indian adaptation of the Tom Hanks-Denzel Washington starrer Philadelphia from Revathy?
Yes, and no.
Tamanna (Shilpa Shetty) is the creative head of an ad agency. She meets Rohit (Salman Khan) at her annual vacation to her alma mater. Old friendships are rekindled, and the two get romantically involved.
One day, Tamanna's sister Tania meets with an accident and Tamanna is required to donate blood. That's when Tamanna discovers she has AIDS.
| | |
| --- | --- |
| | More on Phir Milenge! |
| | |
The knowledge sends her into shock. She withdraws from the world and locks herself up at home. When her employer visits her to enquire about her absence is, she tells him the truth.
The next day, Tamanna summons the courage to return to work but is in for a bigger shock. She gets strange looks from her colleagues, finds her cabin rearranged and gets replaced in the organisation.
Enter Abhishek Bachchan, the lawyer, who helps her out.
Revathy spins a sensitive tale in her second film, after Mitr: My Friend.
The film has been adapted well to the Indian palate, and AIDS is woven delicately into the story.
It educates without being preachy, something it may have been in the danger of. It tends to drag in the first half but more than touches your heartstrings later.
But Salman looks very healthy, despite being an AIDS patient in the last stage.
Shetty comes up with a rare, subdued performance. Her life and work have been snatched from her, but yet, she refuses to bow to circumstances.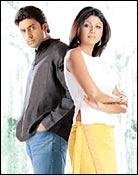 Abhishek pales in comparison to Denzel Washington, who played the lawyer in the Hollywood original. He lacks in oratorical skills, especially in the climax.
Phir Milenge
benefits from appearances by the legendary Somayajulu (who acted in the Telugu classic,
Shankarabharanam
) and Tamil actor Nasser. Both have given sterling performances in their cameos.
Mita Vashisht excels as the hard-nosed lawyer, who will not stop from advising her clients to lie in order to win the case.
Phir Milenge
is worth a watch for its sensitive handling of a delicate subject, AIDS.
CREDITS

Cast:
Salman Khan, Shilpa Shetty, Abhishek Bachchan, Mita Vashisht
Director:
Revathy
Music:
Shankar-Loy-Ehsaan and Bhavatha Raja