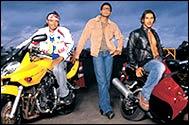 One brave cop. One smart thief. One cool rider. And one very nervous viewer. You see, I have to review Dhoom.
What bolstered my confidence were the promos -- they made Dhoom seem like a very interesting remake of The Fast And The Furious.
By the interval, I had forgotten any such reference. All I knew was, the money spent on the ticket was well worth it. This was going to be one paisa vasool film.
| | |
| --- | --- |
| | More on Dhoom! |
| | |
Dhoom begins with a slick robbery in which an armoured truck is stripped of its money by four helmeted, leather-suited bikers. Despite the speed of the thrilling opening sequence, it is the super-bikes -- all from the Suzuki stable -- that grab your attention.
Before you can fully savour the sequence, the film cuts to the tantalising Shikdum song where Assistant Commissioner of Police Jai Dixit (Abhishek Bachchan) and his sexy wife Sweety (Rimii Sen) leave the audience panting for more.
Director Sanjay Gadhvi deftly uses the song and a couple of scenes to outline their marital bliss. The only thing that mars this bit is Sen's dialogue delivery -- it is one area she needs to concentrate on. The only time she sounds smooth is when she speaks in Bengali; even though I didn't understand a word she said :)
Jai, who is one smart cop, homes in on the fact that the mean machines used in this robbery are rather unusual. He makes that his first step in the ladder leading to the speed-happy criminals and starts searching for someone who knows his super-bike.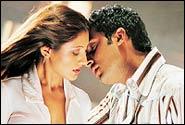 Which is where you bump into happy-go-lucky Ali (Uday Chopra), the fastest biker in town. Ali is fond of saying he is 'saare Mumbai mein world famous' for his knowledge of super-bikes. Besides his Suzuki Bandit 1200 cc bike, the other great loves in his life are money and women.
To woo the first, he combines his job as a garage mechanic with a lucrative side business in stolen bikes.
Chopra is delightful; you won't be able to resist the ease with which he combines his funny lines with a penchant for falling in love with every girl he meets.
The third major character in this fast-paced flick is Kabir (John Abraham) who zooms around in nothing less than a Suzuki Hayabusa 1300 cc bike. Kabir, in total contrast to Ali is a no-nonsense person who does not appreciate being messed with. What he does appreciate, though, is money. As the leader of the mysterious bikers' gang, he's well on his way to achieving his goal.
He also happens to combine brains with brawn and has come up with a foolproof plan that shelters his gang from the increasingly desperate eyes of the law. The night raiders turn into innocent pizza delivery boys by day.
Jai is particularly flummoxed and ropes in a reluctant Ali to help nab the wily bikers red-handed. As Jai, Ali and a police team in mufti hang around waiting for the intemperate gang, a car breaks down and Sheena (a toned Esha Deol) steps out with a plea for help. Ali can't resist his Dilbara -- that's what he calls her -- and her nubile charms.
But business at hand will not wait even for something as tender as love. The bikers turn up and are ambushed. A chase ensues and Ali, with Jai riding pillion, catches up with biker chief Kabir. Who hit a button and zooms away from the long arm of the law.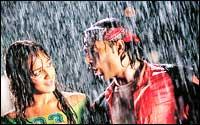 A frustrated Jai lets off a shot that injures one of the biking gangsters. As he lands on the road, Kabir whizzes to the rescue. The gang escapes, leaving the cops with just a bike on their hands.
But the bike turns out to be a clue. Ali discovers it has been souped up with nitrous oxide, which gives its rider that much needed edge -- especially when it comes to escaping with the loot or escaping from the law. Which, by the way, is one of the rare scenes that brought back memories of The Fast And The Furious.
Then, Kabir gets cocky. He tells Jai where the next robbery is going to take place. And issues a challenge -- you either catch me or cut the chase forever.
Jai accepts. And fails. All thanks to Ali, who is busy saving Sheena from a fire set by the bikers as a distraction. Jai is furious and a fisticuffs argument, splashed live on television, ensues. The honest ACP feels compelled to quit the force.
Meanwhile, Kabir plans his last mega-robbery -- a loaded casino in Goa on New Year's Eve.
Jai, Ali and Kabir all land up in Goa at the same time.
What happens next is not typically Bollywood-ish; I'll let you see the film to find out why.
Instead, here is a word on the film's action sequences. They have been superbly executed and loving captured by the camera (Nirav Shah). The use of computer graphics (for almost 25 minutes of the film) lends Dhoom an even more realistic touch.
Though Uday Chopra steals the show -- at least as far as I am concerned -- I have to say Abhishek Bachchan is impressive as the cool and confident cop. John Abraham stalks though his role with ease. Esha Deol and Rimii Sen only need to look beautiful in their limited presence in this sweat 'n' leather flick.
The songs -- except for the jarring Salame -- are interestingly picturised.
Dhoom does have a few loopholes but the film's fast-paced energy is more than enough to ensure your eyes don't stir from the screen for two-and-a-half hours.
PS: Don't miss the Tata Young number after the film ends. You're in for a real surprise!
CREDITS
Cast: Abhishek Bachchan, Uday Chopra, John Abraham, Esha Deol, Rimii Sen
Producer: Aditya Chopra
Director: Sanjay Gadhvi
Music: Preetam
Lyrics: Sameer
Director of Photography : Nirav Shah
Visual Effects: Pankaj Khandpur [TATA Elxsi]