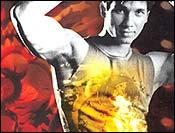 H
is first film, Ken Ghosh's
Ishq Vishk
, was a surprise hit. Almost instantly, he became a rage.
His second film, Fida, is due for release on August 20, with the same set of people at the helm.
Shahid Kapoor, 22, has been in the news in the interim, thanks to his offscreen relationship with Kareena Kapoor. In Fida, we get to see the couple together onscreen for the first time. The film also stars Fardeen Khan.
But the son of the talented Pankaj Kapur, who bagged the National Award for Maqbool this year, and Neelima Azim refuses to be fazed by everyone's expectations
"I am up for trial again. Shoot!" Shahid Kapoor, 22,  tells Vickey Lalwani.
| | |
| --- | --- |
| | More on rediff.com! |
| | |
It has been a while since

Ishq Vishk released. Why the gap? Didn't you want to capitalise on the euphoria you generated when it released?
Frankly, I wasn't too sure whether I had done the right thing by taking such a long lay-off. At times, it can go against an actor. But the kind of response and emotions we are getting after the promos hit the tube is phenomenal. So I guess I took the right decision.
The correct answer to this will, of course, evolve only after we know the public's response at the ticket counters.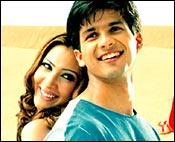 How did

Fida happen?
After Ishq Vishk succeeded, there was a lot of speculation. People were expecting Ken Ghosh and me to get together again, go on the same lines and make another hit. But we were keen to do something different.
When Ken told me about this script, I was floored. That's how Fida happened. It's a romantic thriller, but something like this has never been attempted before.
Weren't you sceptical of doing a different role in your second film itself? Wouldn't it have been safer if you had played a college student again?
I know what you mean. And I know I have taken a risk. But if I keep doing repetitive stuff, I don't think I will grow as an actor. So if I have been lucky enough to get something which is different and good at the same time so early in my career, why should I shun it? Just because I am planning some image? Excuse me, that's not how I function!
Tell us about your character in

Fida?
I am under strict orders not to reveal anything. All I can say is that I am not playing a romantic collegian. There is a lot of emotional content, a lot of heavy duty performance.
But you are a method actor. So it may have been easy...
(Interrupts) I do prepare myself to get into the skin of the character, but it was not easy. It was very challenging to undergo the gamut of expressions that my character undergoes through the film.
Did you find any changes in Ken Ghosh since you last worked with him?
He has grown in his art by leaps and bounds. He is far more focused than before, open to suggestions from all quarters and ever willing to correct his mistakes.
Ishq Vishk
was a simple narrative.
Fida
is a very stylised film. Anyone who has seen
Ishq Vishk
will notice the difference.
Fida
is as much a director's film as an actor's film.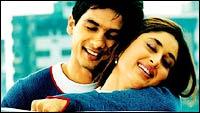 There are rumours that you play hard to get with the media, that you have become snooty...
(Interrupts) There is not an iota of truth in this matter. I am the same cool and friendly Shahid that I was.
Apparently, you were also insecure about Kareena and Fardeen's friendship during the making of

Fida and passed some uncharitable comments against Fardeen?
Absolutely false! I am not a fool to feel insecure about Kareena's relationship with her friends. If I pass comments against my co-actor, it would be highly unethical and unprofessional. A film is a team effort. If I run down a co-actor, I would be killing my film.
But I guess I'll have to stop being emotional and move on. Fame comes with a certain amount of baggage in Bollywood.
People seem to think Kareena controls your career, that she asked you to walk out from his production, Kaal, because she had differences with Karan Johar and refused

Kal Ho Naa Ho?
(Laughs) That's more than funny. What else can I say? I fail to understand that why two and two always make five in Bollywood.
Does your offscreen chemistry with Kareena help you with your scenes?
It certainly helps. If two actors are unknown or uncomfortable with each other, it takes time to break the ice. Here, the results were instantaneous (smiles).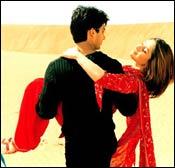 Don't serious scenes make you laugh if you are too close to each other?
I know what you mean. It could work the other way. But let me tell you, Kareena and I are very professional and serious about our work.
Where is your relationship heading?
It's too early and too premature to comment. We'll think of crossing the bridge when we reach there. But yes, everything is fine and positive. We are very happy with each other.
Are you doing UTV's film, directed by Somnath Sen and costarring Soha Ali Khan?
I was approached for it, but I could not allot the required dates.
What are your forthcoming projects?
There's Dil Maange More with Soha, Tulip Joshi and Ayesha Takia. Then there is Life Ho To Aisi with Amrita Rao, Jeevansh with Ajay Devgan and Deewane Huye Paagal with Akshay Kumar.