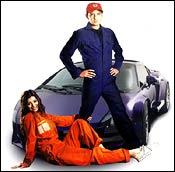 A
car that changes its shape, drives in any way, becomes a motorboat and navigates underwater, can fall apart and pull itself back together, and can never be damaged.
To top it all, it has Ajay Devgan's ghost, who is hungry for revenge, as its driver.
This Rs 2 crore Dilip Chhabria-designed wonder car is the real hero of Taarzan – The Wonder Car.

It gets its name Taarzan from its designer in the film, Devgan, who hangs a Tarzan figurine (which looks like the animated Disney film released in 1999) in the car.
The story is simple. Vatsal Seth, an orphan, is a nerd who works as a mechanic in Amrish Puri's garage, loves his grandmother (Farida Jalal) and goes to college every day. His father (Devgan) is bumped off in the first reel by five villains.


| | |
| --- | --- |
| | More on rediff.com! |
| | |
The film spends a few more reels on Vatsal's romance with London-returned
Ayesha Takia
. He discovers his father's car in a scrapyard and spends another reel putting it together.
This is when the film really takes off and we have some fun watching the wonder car bash up bullies and then kill the five baddies one by one in the second half.
The good news first. The car looks great, and does exactly what it is supposed to do -- churn out good, clean, kiddish, violent fun.
The bad news. The villains are from the 1970s and 1980s, hamming to the hilt, with the most idiotic lines.
The structure is similar to Rakesh Roshan's
Koi... Mil Gaya.
But instead of an alien, we have a car.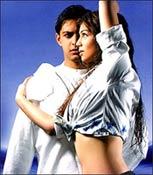 What's missing is that Vatsal, despite his earnestness, is no Hrithik Roshan. So, it's a waiting game until the car makes its appearance. His story, which is quite weak, is woven around the antics of the car. If Vatsal's tale is removed, the story would still be about an avenging soul in a car killing the bad guys.

Ayesha Takia is likeable. But if she wants to show off her legs, she should stop wearing stockings.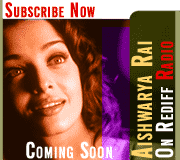 Devgan is barely seen on screen. His presence is felt more via the car. The filmmakers did not cash in on the actor's presence, and made sure there is no disappointment.

The music is okay. But the hit number O Sajan is wrongly placed and slows the pace of the film.

The Abbas-Mustan film will actually delight kids more than adults.
It's funny, Hollywood's king of horror Stephen King would never have seen his horror fest Christine becoming a family film, where the car -- instead of scaring the audience -- entertains them.