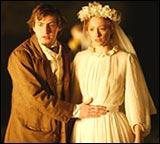 Unfazed by negative reviews, M Night Shyamalan's The Village grossed about $50 million in three days, giving the filmmaker his fourth consecutive top-billed opening.
Also significant is that while the filmmaker's previous hits had star power (Bruce Willis in The Sixth Sense and Unbreakable, and Mel Gibson in Signs), the new movie, with its ensemble cast of character actors such as William Hurt, Joaquin Phoenix and Adrien Brody had to depend mostly on Shyamalan's reputation.
Box-office experts pointed out that while The Village opened to a strong $21 million on Friday, it fell by about 18 percent the next day.
Usually, Saturday box-office collections are stronger than on Friday, and there are speculations that the film may not do as well as Signs, Shyamalan's previous film, which opened with $60 million and went on to earn about $220 million in North America.
Even if the film were to plummet by about 50 percent next week, it is certain to fly well beyond the $100 million mark.
For producer Walt Disney, The Village's big opening must have come as a relief.
The studio is reeling under the impact of a string of expensive flops such as Around The World, King Arthur and The Alamo.
Shyamalan's film cost just around $60 million.
Not so lucky was Harold And Kumar Go To Whitecastle, a genial but crude, over-the-top dope comedy that paired two little-known actors -- John Cho, a Korean American, and Kal Penn, an Indian American -- in the lead.
But it may be too early to write off the $9 million movie, which was at No 7 on the chart with an estimated $5.1 million. It could have a stronger life in video and DVD markets, and could also perform better abroad.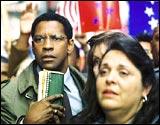 The political thriller The Manchurian Candidate, which received far better reviews than The Village, opened at No 3 with a respectable $20 million gross. It followed the hit thriller The Bourne Supremacy that fell from the top post with a 55 percent attrition. But it was still strong with a $24 million three-day gross that took its 10-day total to $98 million.
Thunderbirds, a British import aimed at younger audiences, could not even find a place among the top 10. It opened at No 11 with a disastrous $2.7 million, giving distributors Universal yet another big disappointment this year.
Still playing despite slipping by about 54 percent from the previous week, the sci-fi adventure I, Robot is headed for a commendable $150 million gross in North America. The Will Smith starrer was the fourth highest grossing film of the week.
Still luring fans, Spider-Man 2 has captured about $344 million but considering its recent decline, it looks unlikely to reach the $400 million benchmark. It was the fifth film on the weekend chart but there is no denying it has consolidated the reputation of the franchise, especially abroad where it is headed for a $350 million gross.
Some medium and small budget films have turned in good but unspectacular grosses. A Cinderella Story, heading for a gross of $50 million, has already become profitable.
Taking a huge plunge in its second week, Catwoman is unlikely to land on its feet. It has joined the ranks of expensive turkeys such as King Arthur.
The box office this week:
Rank

Film

Weekend gross

Total
gross

Number
of weeks

1

The Village

$50.8 million

$50.8m

New

2

The Bourne Supremacy

$23.4 million (less 55% from previous week)

$98m

2

3

The Manchurian Candidate

$17.5 million

$20.2m

New

4

I, Robot

$10 million (less 54%)

$114.7m

2

5

Spider-Man 2

$8.5 million (less 43%)

$344 m

5

6

Catwoman

$6 million (less 63%)

$29 m

2

7

Harold & Kumar Go To White Castle

$5.1 million

$5.1m

new

8

A Cinderella Story

$4.7 million (less 40%)

$40 m

3

9

Anchorman

$3.1 million (less 55%)

$78 m

4

10

Fahrenheit 9/11

$3 million (less 36%)

$109 m

6