army, politics, india, pakistan, assassination, saviour, extramarital affair, good father, bad father, paratha-feeding mother, ideal son, stepson, distant daughter, tomboy, funny friends, oddball teachers, sexy teachers, countless clichés, makeovers, love, couples, school, college, superman, classrooms, romance, colours, prom nights, violins, saxophones, dream songs, midriffs, cleavage, dream girls, deewar, sholay, mard, gabbar, rickshaws named dhanno, r d burman, grease, kuch kuch hota hai, action, jerry bruckheimer, matrix, mission, impossible, electric guitar, blue-eyed villain, terrorist, bullets, guns, bombs, helicopter, ram, laxman, ramayan, rona dhona, hasna khelna, grease, happy ending, main, hoon, na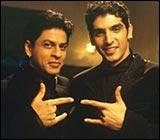 Hmm, that's about it, I think — keywords to three hours of non-stop entertainment.
Spell the three magic words — Main Hoon Na — and brace yourself for unlimited action.
How do I describe Main Hoon Na? Let's see. It begins like a Jerry Bruckheimer action flick. It transforms into a Kuch Kuch Hota Hai kind of campus caper. It develops into an emotional Deewar. It goes back into the Bruckheimer mould only to end like the musical Grease.
Offscreen: You are still adjusting your creaky chair ensuring that the popcorn doesn't slip out of your hands.
Onscreen: A television show is taken over by a bunch of terrorists, their leader Raghavan shoots Major Shekhar Sharma (Naseeruddin Shah) when the latter tries to protect General Bakshi (Kabir Bedi). His son, also a major, Ram Prasad (Shah Rukh Khan), makes an Ethan Hunt-style entry amidst a lot of gunshots, firing, mid-air diving, the works.
Bottom line: Bang! Bang! Bang! The plot unfolds at a bullet's pace.
Cut to chase! Cut to St Paul's School, Darjeeling! Cut to railway platform!
Cut! Cut! Cut! One thing at a time.
Flashback: Shekhar Sharma's life is an extension of Shekhar Kapur's Masoom. He has a son (that's Shah Rukh) out of an extramarital affair. Only his wife is no Shabana Azmi. She is Kirron Kher, actually. Unlike Azmi, Kher doesn't accept him and leaves the house with baby Laxman (that's a secret). Now, Sharma's last wish is to see his family reunited again.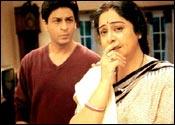 General Bakshi's daughter Sanjana (Amrita Rao) — whose life is threatened by the terrorists — studies in the same school as Laxman. So Ram has double duty on his hands. One, be a watchdog to Sanjana. Two, finish his personal Ramayan on a happy note, a la Valmiki.
Enter St Paul's School in ravishing Darjeeling.
Is it a school? Is it a college? No, it's a fancy dress institution.
Confused? Don't worry, main hoon na. See, it's very simple. It's all of these. It's called a school, but functions like a college and all its students dress up like junk food. Seriously, Britney and Eminem could borrow fashion tips from Darjeeling teenagers.
Like one of the character's mom says, "Arre beta, yeh haathon mein kutton ka patta kyun bandh rakha hai?" [Why are you wearing a dog collar on your wrist, son?]
Ram arrives at St Paul's as an undercover student. His first day at school is a disaster. 'Uncle, Budha, Buzurk' is how the students refer to him.
One guy in particular is constantly pestering him. Let's introduce him. He has failed three times. He sleeps during the lectures and parties all night. He forgets to pay the electricity bills. He smokes. He loves to arm-wrestle. He dresses in torn tee-shirts and jeans. His hairstyle resembles a lion's mane. He is Lucky (played by Zayed Khan).
But Ram knows the secret recipe to winning everyone's heart. He rescues Lucky, leading a student to cry out, "Arre yeh Ram toh Rambo nikla." He also works overtime playing agony aunt to Sanjana, who nurses a crush on Lucky. For once it's not just the tomboy heroine getting a salwar-kameez makeover. Ram makes Lucky go through the whole cut-your-hair-wear-kurta grind, or 'sata savitra', as the latter calls it.
But the real funny moments involve Ram:
* Ram's encounters with the utterly forgetful principal (Boman Irani), who reads Harry Potter and The Order of the Phoenix and wears ties with Superman or The Seven Dwarfs designed on them. Here's how a regular conversation between the two goes:
Ram: Main yahan kuch aur der rukna chahta hoon, Sir.
Principal: Haan haan, zaroor, magar lunch khakar jaana.
Ram: Mera matlab main school main aur dinon tak rehna chahta hoon, Sir.
Principal: Haan haan, zaroor, graduation karke jaana.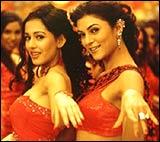 * Ram hiding his face every time he sees his physics teacher Rasai (Satish Shah). Rasai is a walking-talking 'thook' specialist. The man spits without discrimination on every member of the cast from SRK to Sushmita Sen to Amrita Rao to Zayed Khan to Boman Irani.
* Ram getting dancing lessons from the entire school, including the principal.
* Ram breaking into an R D Burman song, accompanied by men on saxophones and violins, every time his chemistry teacher Chandni (Sushmita Sen) makes an appearance. This exchange of dialogue will give you a feel of the intensity of Ram's affection.
Chandni: Itna bade hokar student? How disgusting!
Ram: Itni chhoti hokar teacher? How amazing!
Farah Khan makes a well-choreographed debut. She shows a knack for filmmaking. Her grip on the subject, which changes its tone every 10 minutes, is consistently maintained. Her brand of filmmaking comes across as very MTVish, very spoofish, albeit on a very lavish (read Rs 24 crore) scale. Whether a character echoes Amitabh Bachchan's dialogue, "Mard ko dard nahi hota", or Shah Rukh takes on the bad guys on a rickshaw named Dhanno, a sense of spoof looms. I don't know if that is intentional.
V Manikandan's cinematography in Kuch Naa Kaho was impressive. Here too he shows his skill with the camera and comes up with cool angles.
Though the music of Main Hoon Na is nothing extraordinary, it fits in with the mood of the film. But action director Allan Amin needs to get over the whole Matrix-Mission Impossible hangover. His action is getting very repetitive.
But I must admit, it's good fun to see Shah Rukh Khan doing so much action. He is Shah Rukh Khan here too. No change there. But that's what Main Hoon Na needs — the superstar Shah Rukh Khan who can win hearts. So his Ram walks about the college grounds like a lost little boy with big brown eyes charming everyone with his dimpled smile and Godbrother-like aura. He bonds warmly with Zayed Khan on screen. Though he looks awkward in some scenes, Zayed shows considerable improvement since his debut, Chura Liya Hai Tumne.
Suniel Shetty in a fierce-looking get-up plays with restraint a terrorist who opposes Indo-Pak peace. There is a hint of ruthlessness in his otherwise gentle disposition when he says, "It's a personal war. It always is."
Sushmita Sen is magic. She looks beautiful. Chandni is Ram's dream woman in the film. Sushmita transforms into a dream for
Main Hoon Na
. Amrita Rao has a telling screen presence. She doesn't look awed by any of her co-stars.
Main Hoon Na is a fun film. It doesn't preach. It doesn't go by logic. It isn't realistic. But it's shamelessly entertaining. So if you are looking for 1970s-style entertainment, Main Hoon Na is what I recommend. Enjoy!