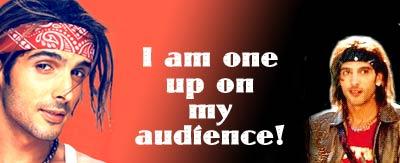 He has interviews scheduled back to back all day, followed by a private screening and then the cast party.
All this after he has completed radio shows, a few more shoots and casting his vote. Did we mention a root canal appointment with the dentist? And a charity screening for children with cancer.

Who said being an actor was easy? More so when you have a release, touted as the year's biggest film, hitting the marquee in two days.

But the burden is a little lighter when you have Sanjay, Feroze and Fardeen Khan as immediate family and Hrithik Roshan as brother-in-law.
Zayed Khan can breathe easy. At his father Sanjay Khan's palatial bungalow in suburban Juhu, he speaks with Vivek Fernandes on first takes and second chances.
  
On why he chose acting as his career:
 

| | |
| --- | --- |
| | Main Hoon Na on rediff! |
| | |
It was an inherent bug that I had, something I couldn't control, something I've always wanted to do. Ever since I opened my eyes, I have come into contact with films. With the number of movies I have watched, there was no other career.
Unconsciously, everything I did all my life -- learning martial arts, how to dance, going to the beach to learn how to throw my voice -- I did knowing at the back of my head that I would use it as an actor.
On following his calling through school and college:
I studied at Jamnabai Narsee School, Juhu, [
Mumbai
] till Grade Six, after which I moved to Wellham Boys School, Dehra Dun and then to Kodaikanal International School.
I remember participating in the productions at Wellham, and playing the lead roles in all my productions. Of course, it was all English theatre. I didn't attempt any theatre in Hindi, which I am doing now.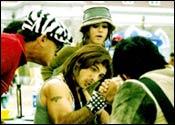 I went to study Business Administration at Montgomery College, Maryland. It wasn't great, but my grades were not too great either. At the time, I was more interested in the birds and the bees.
Later, I spoke to dad about studying film and moved to study at the London Film School, where I did a two-year diploma. That was good learning because of the hands-on experience in all the aspects of filmmaking -- from writing to sound to light to direction and action with the option to specialise in the second year.
Zayed's favourite songs

Main hoon na

Chale jaise hawayein

Ye fizayein

Tumse milke

On his foray into films:
I was sitting on the sets of
Aap Mujhe Acche Lagne Lage
because I was very keen to watch Hrithik [
Roshan, his brother-in-law
] shoot an action scene.
Someone from Pantaloons [the producers of the film] spotted me there and called me. It was still my preparation period, but I liked the script. I cut a deal and went ahead with Chura Liyaa Hai Tumne.

On facing the camera for the first time:

It seemed like I was dreaming but still not asleep. I felt like it was not real. Me standing in front of 100 people shooting seemed like some fantasy of my imagination. It was an awkward feeling, but it all came together as real as a lollipop.

I was apprehensive. I don't know if having butterflies in my stomach is a good sign or a bad one, but I sure had them.

On bagging a role in Main Hoon Na:

This happened by accident. I wanted Farah Khan to do a song for Chura Liyaa Hai Tumne and so was in touch with her because of that.
I was just back from Goa with a broken leg, sporting a ragamuffin beard and unkempt, untamed hair. As luck would have it, she was looking for someone just like me for my role in Main Hoon Na.
She called me one day and I found myself at Shah Rukh Khan's office. And from then on, it is history.

I didn't audition at all. Farah wanted to see some scenes of my work after which she said she would audition me, irrespective of that.
So I took her to Empire Theatre and showed her some scenes from Chura Liyaa Hai Tumne. The lights came on, there was pindrop silence and not a word was exchanged. I was having a heart attack. I remember walking her all the way back to her car and she still didn't say anything. By this time, I was going to die.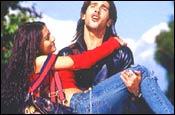 She got into the car, very casually put her hand up and said, "Send me your measurements tomorrow." I was thrilled.  

On his preparation for the role:

First, I had a bound script which I read three, four times. By now, I have read it hundreds of times over. When you do that, you automatically become this person called Lucky.

The environment you are placed in -- the school setting; the funny, silly characters; Farah, with her tremendous sense of humour as your director -- all these elements add together to give you a taste of your character and you begin to think like him.
Of course, you need to be well directed in terms of what point in the film you are at and where you ought to be in terms of your emotional graph. I maintain that I am as good as my director.

All of us have a memory bank where we record points in our lives when we have been upset or have cried or been angry or love unconditionally, and you try and lend these emotions to the scene by replacing real life characters with those on screen. It sounds easy but it is harder to do it.

Appearance-wise, I was Lucky in college just toned down 20 per cent, with the long hair and the unshaven look.

On Lucky, the role he essays:

Lucky is sent from boyhood to manhood in the film. He is basically an unpredictable, self-centered, egotistical, lovable guy with a heart of gold. Yeah, he is a complex character. He blames the reason for his being this way on a traumatic past that Shah Rukh's character comes in midway to act as a catalyst to.
Shah Rukh plays the angel from God, the white feather who changes every one else. He helps Lucky see that he can't blame the world for the way he's turned out and take on his responsibilities, sooner or later. During the process of conflict and trails, my character grows to understand that. Then he comes back to return the favour to his brother.



Zayed's favourite date flicks

Main Hoon Na

Kal Ho Naa Ho

Finding Nemo

The Return Of The King

On working with Shah Rukh Khan:

It's a dream come true. On the first day, I was anxious. Because I was a junior, I did not know if I would piss him off if I said or did something he thought disrespectful. There were various levels one had to assess. To be honest, Shahbhai is a dream to work with, especially for newcomers.

I still recall how he would say to me, "Just do it the way you feel it. The camera will get you good. Do it like you were living it."

Apart from that he has told me trade secrets that I will never share. My loyalty and love are at his discretion forever.

On his other co-stars:

Sushmita [Sen] is a fantastic actress, eloquent, so elegant and graceful. Of course, I had a different tuning with Shah Rukh. I call Shah Rukh 'King Khan' and Farah 'Her Majesty'. No one can replace them.

It is very difficult to point out which supporting actor's role I really like in the film. All of them, characterisation-wise and performace-wise, have been grat. At times, I think Boman was wonderful, but then again, there was Satish Shah and Bindu. And I can't forget Suniel Shetty.    

On Amrita Rao, his co-star: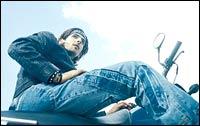 Amrita is a very sweet, innocent girl. She has a heart of gold. She is always around, pepping you up, encouraging you, saying the next shot will be better.
There was a lot of rubbing off on each other, performance-wise, and that led to a healthy friendship. She is really going to surprise a lot of people. She stole the show in the dance numbers, even in the one I am in. You will have a hard time taking your eyes off her.  

On director Farah:

Farah's put her life into the project. She has put in love, a little bit of sugar, lots of honey and nice candy sprinkles around.
I am not one to count my chickens before they are hatched, but I will say that this is one of those movies that will make a lot of people happy.

On the dance sequences in the film:

One of the highlights of the film is a song with Amrita and I that has been shot without a single cut.
I had just come out of Mohabbat hai mirchi in my last film, but you could not compare it to this five-minute song with no cuts. We rehearsed every day in Mumbai for 30 days to get it right. And every day after pack-up in Darjeeling to get used to oxygen levels because the air was thinner there.

We needed the rehearsal because dancers were collapsing around me and having asthmatic fits. It was very taxing. We would begin at seven in the morning, do an entire shift. Then, after we closed for the day at 4 pm because of poor light, we had to rehearse full-on for another half-hour.
It took its toll but we were so happy to see the end product that we would do it again any time.    

On his upcoming projects:

I have three projects in hand -- Vada, Shabd and Hum. Vada also stars Ameesha Patel and Arjun Rampal.
Shabd has Aishwarya woking with me, and I team up with Abhishek, Suniel Shetty and Sanjaybhai [Dutt] for Hum. I have begun working on all three projects, but am not sure when they will release.

As far as roles, I would say I am one up on my audience. You will see a marked difference from one to the other.
Click here for More Interviews