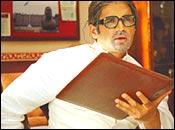 In his 12 year career, Suniel Shetty had never worked with Shah Rukh Khan. Until Main Hoon Na, his latest release.
Though he plays a negative character in the film, Shetty says people will love his role and give him a standing ovation. And he is confident that Main Hoon Na will be the biggest hit in Shah Rukh Khan's career.
Directed by Farah Khan, Main Hoon Na also stars Sushmita Sen, Zayed Khan and Amrita Rao. It is scheduled for release on April 30.
Chief Correspondent Syed Firdaus Ashraf spoke to Shetty:
About Main Hoon Na:

It is a complete film. There is humour, action, emotion, and romance. These elements are mixed so well that I strongly feel it will be the biggest hit of the year. You may call me arrogant, but this will be Shah Rukh's biggest hit too. I think his production company [Red Chillies Entertainment] will become a big, big, big production company after this!
About his role in

Main Hoon Na:
| | |
| --- | --- |
| | Main Hoon Na on rediff.com! |
| | |
I play a militant, an ex-army man. He knows everything about the army and warfare. He believes that whatever he does is right. But his views are wrong from the world's point of view and also from the film's point of view.
I have done comedy and romance. So I thought why not try negative roles too. I wanted to try something different. But I won't really call my role negative in Main Hoon Na because I am not raping a girl or doing anything for money. It is not the clichéd negative role, just like in Khel or Rudraksh. In those films, I possess power. I'm sure people will admire my role after they come out of the theatres. It's very stylish. Farah and Shah Rukh have taken care of my role in this film.
About Shah Rukh Khan:
Shah Rukh had a back problem during the film's shooting. But he did not stop shooting. He took painkillers and did his work. I really admire him. He gives his life for films. I used to think that I am committed to films, but when I see him I feel I am nothing compared to him. He breathes cinema. He understands cinema. He knows the pulse of the audience. That's why SRK is the greatest superstar of our country today.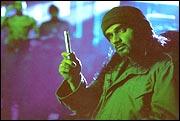 About the music in

Main Hoon Na:
It is pure melody and on everybody's lips today. The title track is my favourite.
Memorable experiences:

We used to laugh our guts out on the sets! The atmosphere was good. The most important thing is that I worked with a new unit. I had never worked with Shah Rukh or his production house before. Yet, I never got the feeling that I was an outsider. I felt that I was working in my own production house. Shah Rukh is the producer of the film and I know how stressful a producer's job is. He managed everything beautifully.
I remember Shah Rukh would actually enact the entire action sequences and show me my act. He would roll and sleep on the floor. I would pull his leg and ask him how to do a particular action scene. And he would show me repeatedly, without realising that I was pulling his leg. He would behave like a baby — like my son Ahaan. He does cartwheels 24 times to impress me!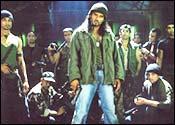 About Farah Khan:
Farah is a brilliant director. She has always directed her songs, not choreographed them. It was effortless for me to act in the film because she was very clear. My look is very different in Main Hoon Na. I don't look like the same Suniel Shetty. I would like people to see it. I know I am negative, but people would still love me in the film!
Click here for More Interviews